District Condos Slated for 14th and S
Posted by Mark Washburn on Friday, October 29, 2010 at 6:05:33 AM
By Mark Washburn / October 29, 2010
1 Comment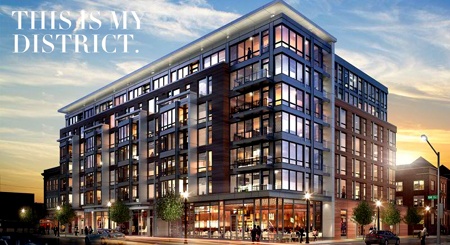 In a city fixated with new construction, there is much excitement around the pending groundbreaking for our first new major residential condo project in four years. This week the developers of the residential condo project at 14th and S unveiled the name.....the District Condos.   Clever most definitely yes, but not necessarily the most Google-friendly option for those searching for the place.  
With very few new construction units left in the popular Dupont - Logan - U Street Corridor, the District Condos will arrive to market at a very opportune time.  This project helps to further meld the all the action on 14th near P Street and
Church Street
with the action of U Street.  It is a good bet that we will see additional announcements along this stretch of 14th Street.
Developed by JBG and Grosvenor, the seven-story District Condos will feature 125 units with a glass and brick facade.  Outdoor terraces and balconies figure prominently into the design.  The ground level at the District Condos will feature retail.