Discover the Story Behind DC s Iconic Cherry Blossoms
Posted by Mark Washburn on Thursday, December 16, 2021 at 7:40 AM
By Mark Washburn / December 16, 2021
Comment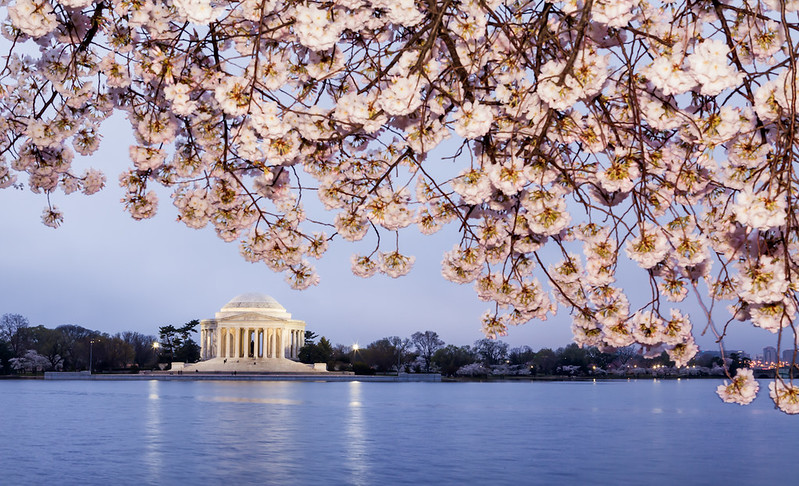 Photo: Fred Dunn
For more than 100-years, people have flocked to DC to celebrate the raw beauty of DC's iconic cherry blossoms in full bloom. First gifted to our nation in 1912 by the Mayor of Tokyo, the cherry blossoms continue to attract interest year after year.
It all began with a gift of 3,000 trees in the early 1900s. According to old reports, a board member with the National Geographic Society was so enchanted with the trees during a visit to Japan, that she asked for cherry trees to be planted along the Potomac River when she returned back to the states in the late 1800s.
When her original request was denied, she started a fundraising campaign. She wrote to First Lady Helen Taft and received a positive response back.
Not long after, a visiting Japanese chemist offered to donate 2,000 trees. Those trees traveled from Japan to Seattle, and then on to DC.
Unfortunately, by the time they arrived, the trees were diseased and infested, and had to be destroyed. Japan then offered another donation of 3,000 trees, which were planted along the Tidal Basin.
In turn, the United States sent some flowering dogwood trees to Japan. Flash forward several more decades, and Japan made yet another large donation of cherry blossoms, many of which were planted close to the Washington Monument.
The first celebration of the trees dates back to the 1920s when DC held a three-day event. A few years later, several civic groups sponsored the very first official Cherry Blossom Festival and it caught on as an annual event.
It's only gotten larger over the years. The festival now stretches for four weekends during the months of March and April.
In the past, well upwards of one-million people have traveled from all over the world to view the blooming trees. You don't even have to attend in person anymore. You can now view live pictures overlooking the Tidal Basin and the cherry blossoms online from the comfort of home.
Search DC Best Addresses Buildings