Explore 16th Street Heights
Posted by Mark Washburn on Monday, February 29, 2016 at 6:56 AM
By Mark Washburn / February 29, 2016
Comment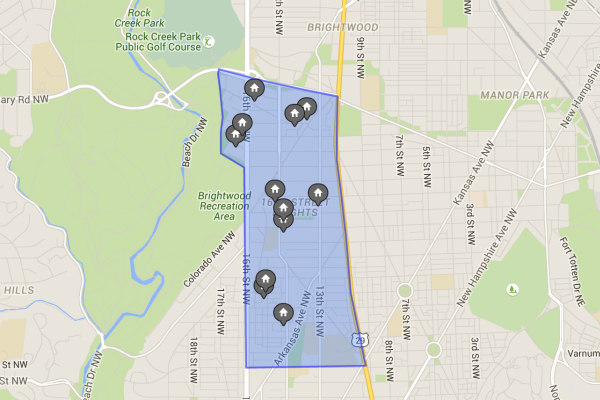 The neighborhood of 16th Street Heights abuts popular recreational spot, Rock Creek Park, in northwest DC.  A mix of electrifying housing options are prevalent throughout the neighborhood, from elegant brick row houses to single-family detached homes to condos to semi-detached Tudor style architecture.  The American Craftsman-style can be seen here as well.  Some of the homes are very large and statuesque.  Several bus lines serve residents who commute to downtown DC, or it's a straight shot to drive down 16th Street to the White House and other central business areas of the city.

16th Street Heights is bounded by Georgia Avenue to the east, Rock Creek Park to the west, Military Road to the north and Arkansas Avenue to the south.  Although homes date from the early 1900s, the majority of the neighborhood was built in the 1920s-1930s.  Homes along 16th Street and its immediate surrounding area are upscale with affluent residents.  16th Street Heights is one of the most diverse mix of residents in the city There has been a lot of transformation in the past few years.  16th Street Heights went from primarily a historically Jewish neighborhood to African American in the 1960s; now homes are being renovated and young families are moving into this desirable community near Carter Barron Amphitheater and Rock Creek Park.  Many private schools are in the area.  Several Metrobus lines serve residents commuting to DC.  Metrobus lines run north-south along 16th Street and 14th Street; Georgia Avenue; and along Military Road west of 14th Street and along Kennedy Street.  Adjacent neighborhoods are Columbia Heights, Park View, Brightwood, and Crestwood.

Rock Creek Park is a much-loved destination for Washingtonians.  Rock Creek Park is a national park that goes right through DC, much like Central Park in New York City.  It's just a few blocks north of Military Road.  The Park offers recreational activities for residents, such as jogging and biking trails, concerts at the Carter Barron Amphitheater, playgrounds, soccer, picnic areas and public tennis courts.  The Fitzgerald Tennis Stadium holds the annual Citi Tennis Classic drawing world-class tennis players, like Venus and Serena Williams, and visitors fill the stadium seats.  Sixteenth Street itself has few commercial areas, given that most businesses are located on Georgia Avenue and around the intersection of 14th Street.  The Columbia Heights commercial businesses areas are mostly up Shepherd Street.  Many churches line 16th Street.  Historic streetcar lines on Georgia Avenue and 14th Street spurred the growth of the 16th Street Heights community, which was developed as several subdivisions.