Discover 16th Street Heights
Posted by Mark Washburn on Wednesday, October 28, 2015 at 12:01 PM
By Mark Washburn / October 28, 2015
Comment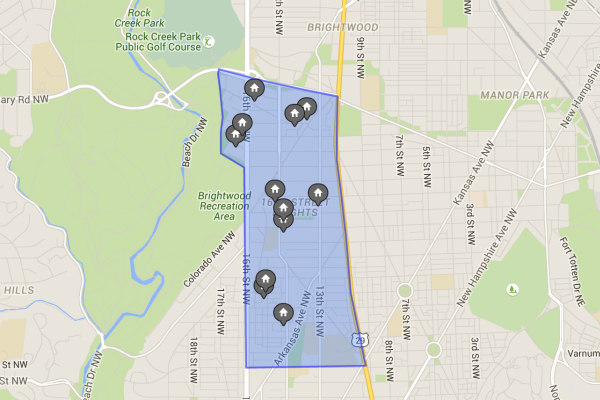 The large quiet residential neighborhood, 16th Street Heights, sits between 16th Street and Georgia Avenue in northwest DC, and features affordable large stately homes in a quiet area with short commutes to downtown, merely two miles away.  Without much of a restaurant scene or retail hub, 16th Street Heights has many new residential developments and a neighborhood featuring attached row houses, duplexes, grand brick Colonials, Tudors, and American Craftsman detached homes that line 16th Street.  Columbia Heights is an adjacent neighborhood.  A number of Metrobus routes run along all north-south streets in the neighborhood, although there is no Metro Station here.

Broadly outlined, the boundaries for the 16th Street Heights neighborhood is 16th Street, NW, on the west, Georgia Avenue on the east, Missouri Avenue and Kennedy Street to the north and Arkansas Avenue to the south.  There has been a big transformation in recent years with houses being fully renovated on every street.  Young families are moving in close to a pretty stretch of Rock Creek Park, a national park with open green space offering urban relief, and Carter Barron Amphitheater, a free summertime theater with music events, open air concerts and tennis center.  It's a pretty neighborhood to walk around.  Streets are broad with an open feel.  The Rock Creek Park also offers a number of recreational opportunities for residents, including soccer fields, biking and jogging trails and a playground.  The William H.G. Fitzgerald Tennis Stadium is a professional tennis facility with seating for 7500, and the site for the annual Citi Tennis Classic, which draws world class tennis stars, and visitors to the neighborhood.

The neighborhood is attracting buyers for its affordability.  The area is home to a large number of private schools and churches.  In the eastern section of the neighborhood, there are modest colonial Victorian and cottage-style houses with front porches in addition to apartment buildings converted into condos.  The hilly area around Decatur Street has Arts and Crafts homes.  With these homes, buyers get more space for their money and a good location.  It's a better value than similar ones in other northwest DC neighborhoods and close-in suburbs.  A rich mix of housing options lends interest, as well as a diverse socioeconomic profile of residents.