Developers Target Kingman Park For New Condos
Posted by Mark Washburn on Monday, November 24, 2014 at 11:07 AM
By Mark Washburn / November 24, 2014
Comment


Two new modern condominium developments are being constructed and open for sales in the Kingman Park neighborhood in Northeast DC. Located close to Capitol Hill and the vibrant H Street Corridor, both the Number 16 and 17 Solar condo developments are seeing brisk sales in response to strong building features and locations walking distance to many transportation options: Stadium-Armory Metro Station, a soon-to-come trolley along Benning Road; a free shuttle between Gallery Place and Chinatown Metro Station in the evenings; and several Metro bus lines.  The area is walking distance to desirable shopping, dining and entertainment.  The boundaries of Kingman Park are 15th Street NE to the west; East Capitol Street NE to the south; Benning Road NE to the north; and Anacostia Park to the east.
Number 16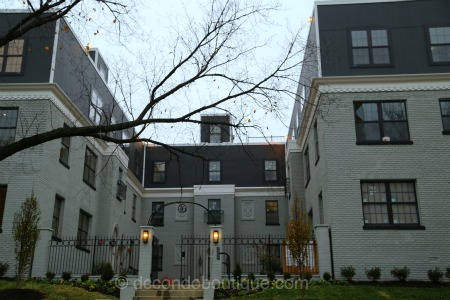 Number 16 is Capitol Hill's newest completely renovated (in 2014) condominium development located at 16 17th Street, NE, and designed with 3 brick low-rise buildings built in 1927 that have been beautifully restored into 20 condos reflecting the neighborhood's history.  The 3 buildings face a large landscaped courtyard inside a magnificent wrought iron gate.  Each building has no more that 7 one-and-two bedroom homes each with a unique floor plan.  The condos range in size from 700-1200 square feet.  Some of the units feature roof decks or balconies.  Each residence enjoys modern finishes and lots of natural light, open floor plans, kitchens with island and quartz countertops and white Shaker cabinets.  Located just 4 blocks from Lincoln Park and close to Eastern Market, Number 16 is within walking distance of the H Street Corridor with restaurants, bars, shops and a Whole Foods market is coming soon.  It is also walking distance to Anacostia Riverwalk Trail, a golf course, RFK Stadium and Kingman Island.  Number 16 is priced from the low $300's for 1 bedroom to high $400's for 2 bedrooms.  Here is a to learn more about Number 16 condos.
17 Solar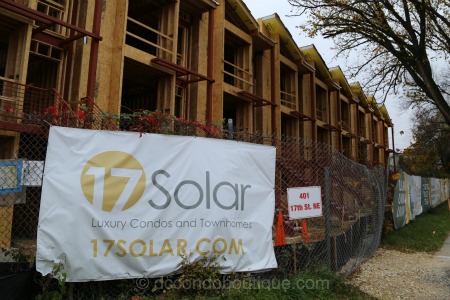 A unique "green" eco-development is planned for 2015 with sales going on now at 17 Solar also in DC's Kingman Park neighborhood.  Just 2 blocks south of the Atlas District and east of Capitol Hill, 17 Solar sets a whole new benchmark for urban living with its integrated solar cells and energy-efficiency.  The low-rise building with 2- story stacked townhome condos over flats is in the highly desirable area near H Street NE, featuring elegant finishes with a modern design.  The 26 residences located at 401-417 17th street NE offer a mix of townhomes and 9 single-story flats, priced from $599,000 for the townhomes; flats from $375,000.  Here is a resource to learn more about 17 Solar condos and townhomes.