DCs Most Manly Condo
Posted by Mark Washburn on Wednesday, November 10, 2010 at 4:36 PM
By Mark Washburn / November 10, 2010
Comment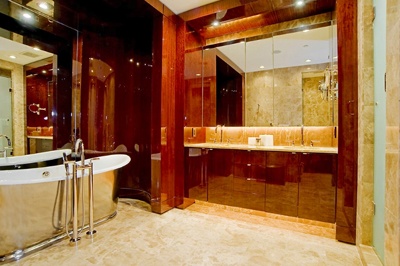 Fellow blogger Lydia DePillis of the City Paper posted this morning about a Wall Street Journal article on man caves. Lydia's visceral reaction to the article caused me to pause and ponder how I might tell her that yes.....I have a man cave. It has all the trappings of a manly room including pool and foosball tables, huge plasma, a picture of me at the 2000 Final Four and even a neon Budweiser sign.
While I vaguely remember seeing a man cave a while back in a Georgetown row house, man caves are few and far between in the District. For the most part with valuations often exceeding $500 / SF for urban DC digs, man caves take a back seat in our space-constrained inner-city environment.
In the absence of man caves, what other options are available for a DC buyer seeking a masculine place to hang his hat? How about a manly condo? After much debate and analysis, the hands down winner as DCs most manly condo is located in Dumbarton Place at 1414 22nd St, NW #64. This penthouse condo features countless walls of seductive lacquered wood, accented by metal, stone and even ceiling mirrors. This condo isn't your ordinary Marlboro Man macho type of setting, but rather a place befitting the likes of the manly Pierce Bronson version of James Bond. This 2BR / 2 BA, 2,500 SF condo was featured in Architectural Digest and is listed for $2.399M.