DC's Most Expensive Street
Posted by Mark Washburn on Wednesday, May 18, 2011 at 10:51 AM
By Mark Washburn / May 18, 2011
Comment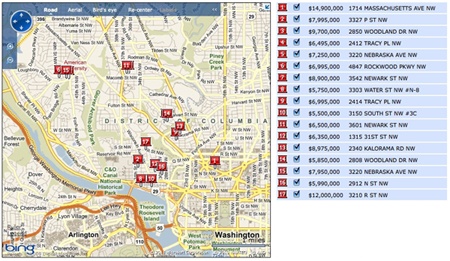 5th Avenue in New York.....North Lake Shore Drive in Chicago.....Turtle Creek Boulevard in Dallas and Louisburg Square in Boston are widely recognized as the most expensive streets for residential real estate in these cities. This begs the question of what is DC's most expensive street?
In a quick informal poll, Tracy Place in Kalorama was the popular answer, although not a clear-cut winner like some of the other cities. Wikipedia anoints Woodland Drive as DC's most expensive street, but lacks a citation backing up this proclamation. Woodland Drive was also recognized as DC's most expensive street by Forbes Magazine in a 2007 story about the nation's most expensive blocks.
In reviewing MLS data of sold listings over the last two years, three DC streets had two $5M+ sales: Nebraska Avenue, Tracy Place and Woodland Drive. With the average selling price of these homes within a couple percentage points, it is safe bet to declare all three streets as our most expensive.