DC's Hidden Neighborhood: Swampoodle
Posted by Mark Washburn on Tuesday, February 18, 2020 at 5:54 PM
By Mark Washburn / February 18, 2020
Comment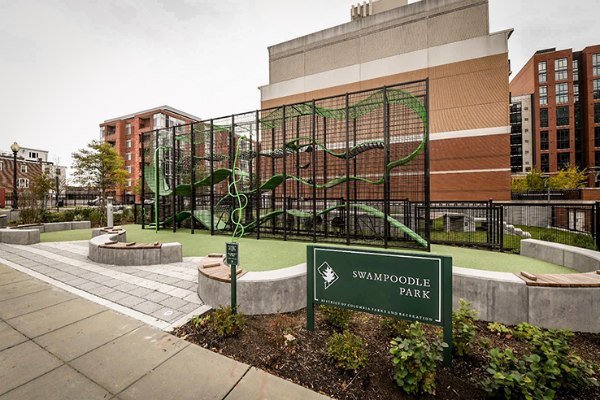 Photo: NoMa Parks Foundation
Much more than just an unusual name, Swampoodle is a historic neighborhood with Irish roots. Originally settled by scores of Irish immigrants in the mid 1800s, its said Swampoodle gained its namesake generations ago from a combination of the words "swamp" and "puddle".
Built up over the former Tiber River, the neighborhood was often marked at the time by standing water and marshy conditions. All these years later the name remains, although it's not likely that everyone in DC remembers it.
That's because Swampoodle is now part of the rebranded NoMA community. The opening of Union Station in the early 1900s wiped out many of the old homes that once stood in the area, causing many residents to move away.
While you'll still find some old homes in the neighborhood, there aren't nearly as many as there used to be. It's still possible, however, to find a range of home styles in Swampoodle, including everything from small Craftsman-style homes to flat front residences and more elaborate Victorian townhomes.
Mostly built up around the late 1800s to the early 1900s, the remaining homes in the area are joined by landmarks including the National Postal Museum and the National Guard Memorial Museum. DC's former working-class neighborhood is also still home to some historic buildings.
The old St. Aloysius Gonzaga Church building still stands, as does the old Gonzaga College High School. These days you will also find some federal and city government buildings in the old Swampoodle neighborhood.
While the name Swampoodle is no longer officially used, recently a new dog park and playground took over the name. Officially named Swampoodle Park, the green space sits at 3rd and L Streets NE. The park gained its name overwhelmingly during a public vote, with a nod to the past as the neighborhood continues to evolve for the future.