DC's Advisory Neighborhood Commissions
Posted by Mark Washburn on Friday, March 24, 2017 at 9:34 AM
By Mark Washburn / March 24, 2017
Comment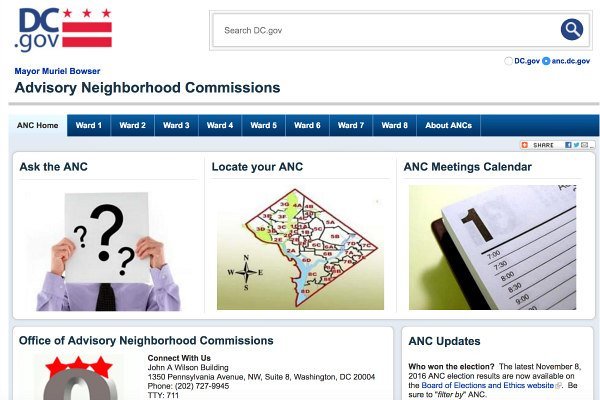 Helping to give local residents more say in their own neighborhoods, DC's Advisory Neighborhood Commissions give homeowners a "voice" when it comes to matters affecting their own individual communities. The ANCs now total 40 across the District, with each of them further divided into Single Member Districts, with one Commissioner in charge of each.
While all of the Single Member Districts are comprised of around 2,000 residents, an ANC can currently include from two to 12 SMDs. In all, there are nearly 300 of these in DC, first started in the mid 1970s.
The Commissioners of each SMD, in turn, serve an unpaid, two-year term. An Advisory Neighborhood Commissioner must live in the District, be registered to vote, not hold any other public office and receive the signatures of several registered district voters to even appear on the ballot.
Once a month the elected commissioners then get together in a public place, whether a government building, library or gym. They allow for public comment and discuss trending neighborhood issues. While the commissions don't have any legal standing of their own, they are an advisory group, meaning the commissioners may be able to communicate directly to other elected officials any concerns of the neighbors they serve.
Set up as part of the District's Home Rule Charter, the idea is to bring residents and local government closer together and put an end to the duplication of special advisory groups. Although Federal agencies and District government leaders do not have to follow an ANC's recommendation, they do have to give those recommendations high consideration.
In fact, District law maintains that agencies must give an affected ANC 30 days notice when taking any action that could deeply affect the neighborhood it covers. This could involve anything from education and sanitation to social services, recreation, streets and zoning or planning. It also covers things such as health services, the budget and safety.