DC Workers Lead Nation in Job Satisfaction
Posted by Mark Washburn on Wednesday, June 25, 2014 at 9:55 AM
By Mark Washburn / June 25, 2014
Comment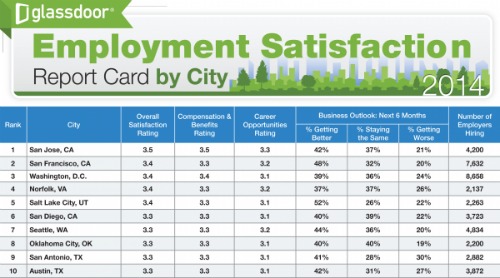 Good news for job seekers!  DC workers in the nation's Capitol are happier than employees in most of the other big U.S. cities.  DC ties for third---with Salt Lake City and Norfolk, VA---in employment satisfaction among the 50 Metro areas, according to The 2nd Annual Survey from Glassdoor, a job search and recruitment company.  Glassdoor compared cities for overall employee satisfaction, number of employers hiring and business outlook.
Only San Jose, CA in the San Francisco Bay Area, and San Francisco scored ahead of DC for the second year in a row.  DC also ranked #5 in career opportunities.  Three-quarters of DC workers said they expect business to improve or stay the same in the rest of the year.  DC jumped two spots from #5 on last year's report to this year's #3 position.
Good news for DC: employee satisfaction is very high and employees here are among the top happiest in the country.  The career data company's metropolitan area based on employee ratings show DC survey respondents overall satisfied with their jobs.