DC Walk Scores
Posted by Mark Washburn on Sunday, November 29, 2009 at 10:48 AM
By Mark Washburn / November 29, 2009
2 Comments
Walking is the essence of the DC urban lifestyle. It doesn't matter if you are a K Street attorney with a pair of cordovan Allen-Edmonds oxfords or a lobbyist adorned in a pair of Jimmy Choo pumps and a secret pair of New Balance running shoes stashed away for the daily commute.........walking around the District is part of your daily routine.
Walk Score is a company that has graded properties and neighborhoods across the country for their walkability. Washington, DC comes in very high at #7 on the national ranking of major cities only trailing the likes of San Francisco, New York, Boston and Chicago. Walk Score uses a 100 point grading system and some of the District's neighborhoods have extremely high walkability rankings:
Logan Circle 98
Downtown 97
Foggy Bottom 95
Adams Morgan 93
Kalorama 92
Friendship Heights 90
Georgetown 90
Any neighborhood with a ranking in the 90s is categorized as a walkers paradise - Most errands can be accomplished on foot and many people get by without owning a car. Walk Score utilizes a complex algorithm to measure distance from an address to thirteen amenities including: grocery store, restaurants, bars, parks, coffee shop and other daily necessities.
The DC Condo Boutique offers a Walk Score rating for every property listed for sale in the District. To view the Walk Score of a listing, simply click on the black Walk Score tab located near the top of the listing just under the address.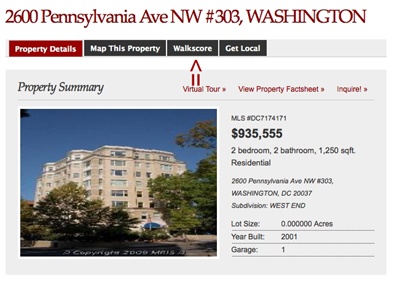 The Walk Score detail for each listing displays as follows: