DC Tops in Nation For Brainpower
Posted by Mark Washburn on Monday, March 24, 2014 at 8:10 AM
By Mark Washburn / March 24, 2014
Comment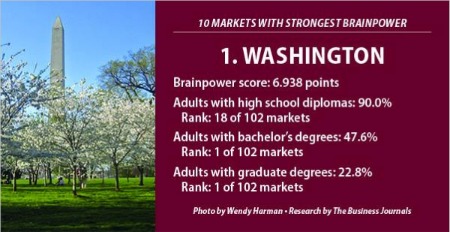 DC is at the top of the heap in the Business Journal's rankings of "brainpower" across 102 major cities.  DC outranks all cities for numbers of adults with bachelor's degrees (47.6 %) and adults with graduate degrees (22.8%).  The Business Journal looked at 102 major U.S. markets and scored them based on the percentage of adults (25 and older) who hold high school diplomas, bachelor's degrees and graduate degrees.  DC had the highest brainpower ranking (6.9) by far.

After DC, the rest of the Top 5 is as follows: Madison, Wis. (with a brainpower ranking of 5.54), Bridgeport-Stamford, Conn. (5.32), Boston (5.17) and San Jose, Calif. (5.08).    Workforce studies reveal that a person holding a bachelor's degree will earn 77% more than a high school graduate; a worker with a master's degree will earn 17% more than someone with either a B.A. or B.S.  This makes sense for the Washington area, since DC has a highly skilled and educated workforce and DC has a high concentration of jobs that embrace higher education.  While the federal government is the biggest employer in the region, DC also has a wide variety of jobs in the fields of accounting, architecture, engineering, high tech, legal services and medicine.

This study comes on the heels of a February report by the Central Connecticut State University that ranked DC as #1 as America's Most Literate City for the 4th year in a row.  Our lofty literacy ranking follows DC being named as the Fifth Best US City in January and the Nation's Leading City For Salary Increases last year.  Our literate residents are at the top of the wage scale and are qualifying for high paid jobs.