DC Top City for Millennials
Posted by Mark Washburn on Friday, November 22, 2013 at 7:11 AM
By Mark Washburn / November 22, 2013
Comment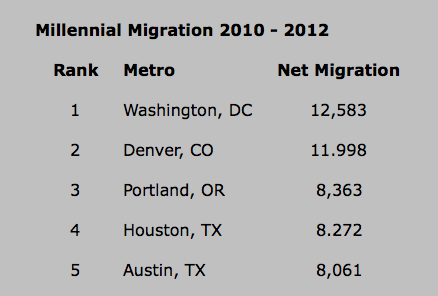 The DC Metro area is home to more new residents between the ages of 25-34 than any other city in the U.S.  Between 2010 and 2012, a whopping 12,583 Millennials flocked to DC, according to an analysis by The Brookings Institution using new Census data. The DC region is the most popular area for Millennials in the country.

The presidency of Barack Obama saw a huge gain in young people to DC following his Inauguration in 2009.  In addition to politics, the economy in DC depends on "knowledge-based" or high tech industries that are attractive to highly educated Millennials.  Among the 51 US Metro areas with populations of over 1 million residents, DC is ranked #1.  While the rest of the country is struggling to recover from the recession, DC's economy remains strong.  The DC Metro area's median household income of $88,233 is the highest among the nation's 25 most populous metro areas, while its real estate market continues to soar.

The driving force behind the good economy in DC is increased government spending and an influx of government contractors and consultants.  DC remains a Millennial hotspot where young people pack up and move to a hip "cool" city.  Following DC on the charts, Denver; Portland, Oregon; Houston, and Austin.  The news of DC as the top city for Millennials is gathered from data by the U.S. Census, which covers the nation's demographic, economic and social trends.