DC Top City For Female Entrepreneurs
Posted by Mark Washburn on Wednesday, February 26, 2014 at 10:43 AM
By Mark Washburn / February 26, 2014
Comment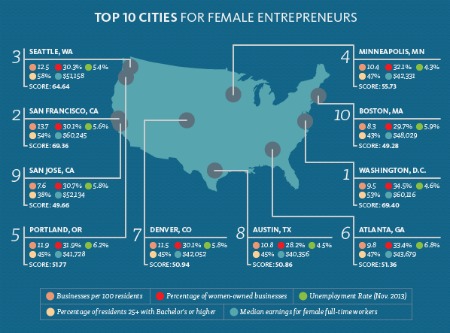 Graphic Courtesy of NerdWallet
DC leads the nation in the best cities in America for women entrepreneurs. DC has the highest rate of women-owned businesses of the Top 10 cities for female entrepreneurs. Women own more than a third (34.5%) of the businesses in DC, which translates to women having a large peer group and mentors in the DC region. DC is home to many resources for women in the region providing training to female entrepreneurs to support their businesses (Washington, DC Women's Business Center) and an advisory council for female entrepreneurs to the federal government (National Women's Business Council). DC pays women far better than other cities in the U.S. and is much more business-friendly for female entrepreneurs than others. Women can also enjoy DC as a city with a good economy and high education levels.
NerdWallet analyzed data to find the best cities in the country for female entrepreneurs. Five criteria were used: how business friendly each city is; what percentage of businesses in each are owned by women; the median earnings of full-time female workers; the percentage of residents 25 years or older with at least a bachelor's degree; and what the economic state of each city is based on its unemployment rates. In DC, the median earnings for female full-time workers are over $60,000. Fifty-three percent of all residents over age 25 in DC have Bachelor's or higher degrees.
An increasing number of women are leading business growth in America, according to the National Association of Women Business Owners. Women-owned businesses in the US grew by 59% between 1997 and 2013. Female entrepreneurs run more than 8.6 million businesses in the US, generating more than $1.3 trillion in total revenues. The highest concentration of women-owned firms is health care and social assistance (53%) and educational services (45%). Rounding out the Top 10 list after DC are: San Francisco; Seattle; Minneapolis; Portland, OR; Atlanta; Denver; Austin; San Jose, CA; and Boston.