DC Salary Increases Are Leading Nation
Posted by Mark Washburn on Friday, October 25, 2013 at 9:09 AM
By Mark Washburn / October 25, 2013
Comment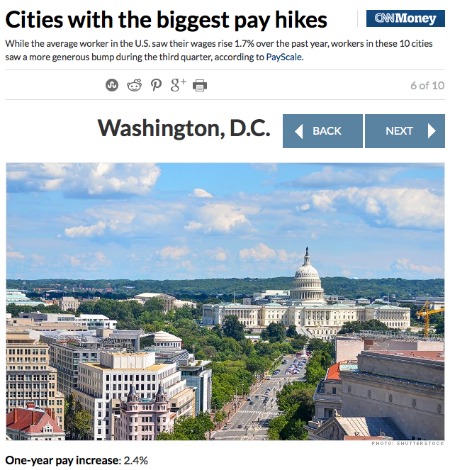 Workers in 10 cities across the U.S. saw a big hike in their wages over the past year, including DC as one of the biggest, coming in at #6. DC ranks 3rd nationally for wealth with Washingtonians earning 75% more than the national average. DC only trails New York City and Santa Clara, CA in average wages. DC ranks as one of the highest concentrations of wealthy residents, with 14% of households earning more than $191,465 annually. Well-paid Washingtonians are taking advantage of low interest rates and buying condos or homes in the DC area.

While the average worker in the U.S. saw their pay rise 1.7% over the past year, San Francisco lead the way as number one with the highest wage increases (up 3.7%), followed by Baltimore, Seattle, Atlanta, Dallas and DC. DC came out strong in terms of wage growth with a 1-year pay increase of 2.4% for area workers. Lawyers, government contractors, non-profit social service employees, and lobbyists are among the professionals who have done well this year, according to Pay Scale analysis. Many of the jobs in DC depend on government spending. Unemployment in the DC metro area stands at 5.7%---a full 2% lower than the national average!

DC also ranks as the 2nd best city for jobs for recent college graduates, according to labor market data from EMSI. DC follows San Jose-Sunnyvale-Santa Clara, CA with a reputation for attracting highly educated singles. DC has a lot to offer young and educated 20-Somethings: a strong job market, high wages, fun walk-able neighborhoods and a thriving downtown. In a separate survey, DC comes out on top as the best city in the US for young adults to live and work. NerdWallet ranked DC #1 out of more than 100 large metropolitan areas for its higher median incomes, young adults ages 20-29, affordable housing, low unemployment rates, and an abundance of cultural events and fun social and athletic activities.