DC Ranked 3rd In Nation For Parklands
Posted by Mark Washburn on Wednesday, June 3, 2015 at 9:32 AM
By Mark Washburn / June 3, 2015
Comment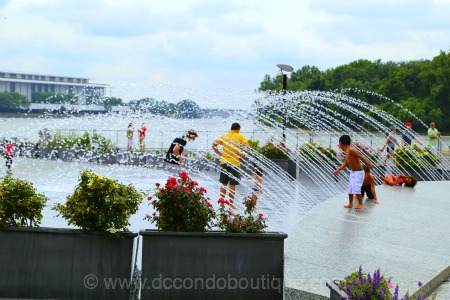 A whopping 97% of DC residents live within a half-mile (or 10 minute walk) of a park.  The ease of accessibility, amenities and quality of the city's parks has earned DC a third place on a list of the best cities for parks in the nation.  Park Score 2015 analyzed the 75 largest U.S. cities and their ratio of parklands.  DC ranked #3 after Minneapolis and St. Paul tied for first place.    Map technology and demographic data were analyzed to determine how well each city is meeting the need for parks.  After DC, San Francisco and New York round out the Top 5.  A high of 21.9% of DC acreage is parkland.

In fact, the Smithsonian Museums on the National Mall boosts the amount of DC parks.  DC has 8,513 acres of parks throughout the city.  The oldest park is the National Mall, established in 1791.  The largest municipal park is Rock Creek Park (1,748 acres).  The most visited municipal parks are the National Mall and Memorial Parks.  Additionally, there are dog parks (1.7 per 100,000 residents), basketball hoops (4 per 10,000 residents), playgrounds (1.8 per 10,000 residents), and recreation/senior centers (2.3 per 20,000). 
The Trust for Public Land's Park Score index is considered the most comprehensive rating system to measure how well the 75 largest U.S. cities are meeting the need for parks.  The Trust for Public Land is the country's largest national nonprofit organization working to create and improve neighborhoods, and advocates for parks in neighborhoods across the country.  The goal is to have everyone live within an easy walking distance of a well-maintained park.  Parks are a crucial recreational feature for communities nationwide.  They offer opportunities near home to exercise and enjoy nature, which is important for our physical and mental health.  Parks foster physical activity, reduce crime, boost local economies and bring residents together.

The amount of money spent per resident on public lands is another factor used in the analysis.  Last year, DC placed #6 so it moved up this year.  While DC doesn't have as many playgrounds as some of the other highly ranked cities, it has more basketball hoops than others.  DC spent $343 per resident on parks last year but it also includes money the federal government spends on the National Mall, mainly serving tourists.