DC Neighborhood Vibe Scores
Posted by Mark Washburn on Thursday, October 27, 2011 at 1:41:07 PM
By Mark Washburn / October 27, 2011
Comment
Georgetown and Capitol Hill have top Vibe Scores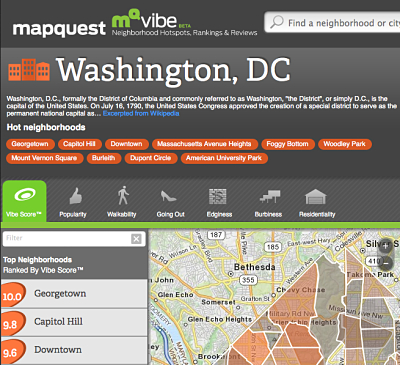 MapQuest has developed a new methodology for ranking neighborhoods called a Vibe Score. A Vibe Score is a composite of the following six criteria: walkability, popularity, going out, edginess, burbiness and residentiality. Vibe uses a patented algorithm that utilizes billions of search and social input data points to create real-time rankings.
Georgetown garnered the top ranking DC Vibe Score with a 10, closely followed by Capitol Hill with a 9.8 and Downtown with a 9.6. These are all very popular destination neighborhoods with great walkability and a significant number of venues to attract lots of visitors. It is interesting that two of the neighborhoods that I expected to high Vibe Scores, Logan Circle and Columbia Heights didn't crack the top ten in the District.
The whole concept of a Vibe Score is most fascinating as it compiling real-time social networking data points to calculate its rankings. I think it is safe to say that applications like this are accelerating the concept of crowd sourcing to mainstream America.