DC Neighborhood Shopping Areas Replacing Regional Malls
Posted by Mark Washburn on Monday, September 9, 2013 at 6:31 AM
By Mark Washburn / September 9, 2013
Comment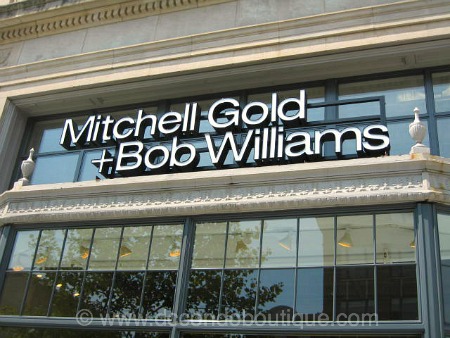 A completely fresh idea is turning up in DC with neighborhood shopping known as "walk-able retail" replacing stuffy enclosed malls.  Sophisticated shopping is springing up in Barracks Row, 14th Street in Logan Circle and the Del Ray neighborhood in Alexandria, Virginia.  This trend in the DC area is shifting from mega malls to walk-able, tree-lined town centers in the open air for the young millennial generation who enjoy a lifestyle-oriented, outdoor retail experience living in condos and apartments with retail and food on the ground floor.

14th Street Corridor
The hottest home design stores can be found on 14th Street between Thomas Circle and U Street, NW.  Known for edgy home furnishings, clothing boutiques and gift shops, Logan Circle has become a destination for young professionals and empty nesters seeking to live in urban upscale condos and enjoy the latest trends shopping outdoors.  Home design stores mingle between fashion retail, restaurants, music clubs, and bars on 14th Street.

Barracks Row
Barracks Row, located just 8 blocks east of the U.S. Capitol, is a 5-block stretch on Capitol Hill from Pennsylvania Avenue SE to historic 8th Street.  There are 40 international restaurants---most with sidewalk cafes---and dozens of historic buildings, many with local artisan shops.  The Barracks Row Fall Festival will take place in late September and feature a beer outdoor garden, street performances and entertainment and culinary contests.

Del Ray
Del Ray, an Alexandria, Virginia neighborhood located near Old Town, has a cozy and family-oriented small town vibe in the shadows of a big city.  Del Ray's main thoroughfare features cafes and restaurants, specialty food stores, yoga studios, cheese boutiques and wine bars.  Given its ease in walking to everything, you see groups, couples and singles on their laptops catching up with their neighbors on the sidewalks and in the shops in Del Ray.  The vast majority of residents are young families but there are also singles in this laid-back, artsy, coffee shop-oriented neighborhood.