DC Neighborhood Naming Follies
Posted by Mark Washburn on Thursday, October 31, 2013 at 11:48 AM
By Mark Washburn / October 31, 2013
Comment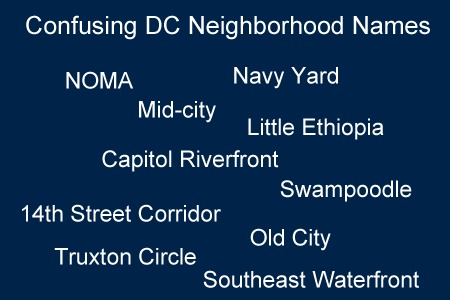 There are some certainties in DC like……grid lock on the Beltway……beautiful cherry blossoms……Metro escalator breakdowns……K Street law firms…..camera toting tourists…..another Wizards losing season…….and never-ending disputes over the names of our neighborhoods. 
Newly popular neighborhoods are often torn between several names before one sticks.  Long time residents and real estate developers often use different nicknames to brand their neighborhoods.  For example, the Navy Yard neighborhood was given this name by residents as a testimony to the neighborhood's historical landmarks, yet business and real estate developers chose a different name to reflect its geographic location.  It is also known as the Capitol Riverfront due to its real estate location south of the Capitol Building, and north of the Anacostia River.  Most people who live and work in the neighborhood, however, still call it Navy Yard.

There are some residents who think re-naming neighborhoods is a tactic used by business developers to displace residents.  For example, the area in DC known as NoMa to nonresidents, was referred to as Swampoodle in the past.  This neighborhood was organized into a business improvement district and the new name stands for North of Massachusetts Avenue.  Some DC residents criticize the new names because they believe the abbreviated versions are created by real estate developers who are dismissive of the District's established history.  The neighborhood that runs from Massachusetts Avenue north to R Street, and from First Street NW to Fourth Street, NE, NoMa came into being in this decade, after more than a century of being in no-man's land and inhabited mostly by warehouses not people.  Then, in the past 6 years, private companies spent $3 billion in investment resulting in 1,400 residents moving here who call NoMa home.  Much of this is credited to the NoMa Business Improvement District created by the DC Council to promote the area; coordinate public and private investment; and provide cleaning and safety services, as well as due to the newly created New York Avenue Metro Station---NoMa or North of Massachusetts Avenue.

The popular 14th and U Street corridors, as it is known by DC residents, has been given the moniker of MidCity by the local business association.  Residents know this area as U Street, Dupont Circle or Logan Circle.  The branding, say real estate developers, is an effort to help out daytime retail that requires steady foot traffic.  Efforts to brand the 14th and U Street Corridors as MidCity--- bounded by 16th Street to the west, Florida Avenue to the north, 7th Street to the east and Rhode Island Avenue to the south---is the intersection of where the Logan Circle, Dupont Circle and U Street neighborhoods come together.