DC Named Top Tech Market
Posted by Mark Washburn on Wednesday, June 21, 2017 at 2:36 PM
By Mark Washburn / June 21, 2017
Comment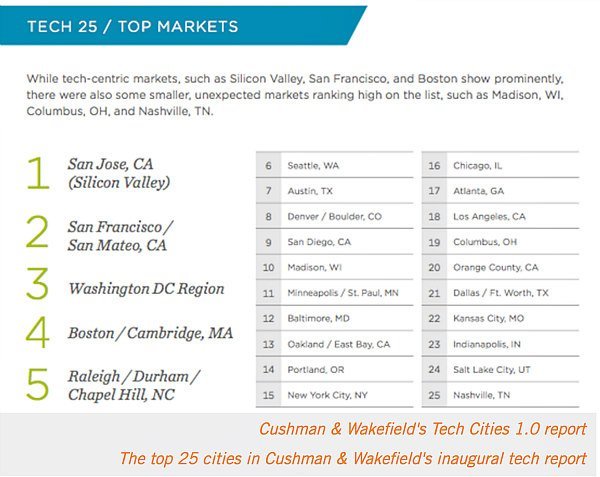 DC's dominance in the political arena is giving rise to what some may see as a seemingly unrelated field. According to a new ranking of the nation's top tech cities, Washington DC comes in an admirable number three.
The emergence of DC on the list of the top 25 cities may at first seem somewhat out of place, especially considering that the top two are the Silicon Valley area and San Francisco. Upon closer examination, though, it becomes evident that tech workers and entrepreneurs are being lured to DC by the area's governmental and life sciences dominance, as workers seek out close proximity to some of the nation's most prominent policymakers.
The global real estate services firm Cushman & Wakefield came up with the ranking, analyzing cities based on things like growth opportunity, capital and talent. This year, DC edges out such other top areas as Boston/Cambridge, Raleigh/Durham/Chapel Hill, Seattle and Austin.
Among other things, Washington DC is credited in the report for its location, close to a number of top universities and for having a strong and educated workforce. It's noted that such tech giants as Yahoo, Google, Facebook and Amazon already have some sort of presence within the local community, and others are quickly following their lead.
The new ranking comes on the heels of a similar study that listed Washington DC as the top city for women working in technology. The financial technology company Smart Asset took in US Census data, then looked at things like income left over after the cost of housing and the gender pay gap in accordance with the tech industry. As well, it considered the number of women in tech jobs and employment growth.
That report listed DC at the very top of the list for 2017; making it the third year in a row that DC's gained the number one spot. It's estimated that women make up about 41-percent of the tech workforce in the capitol city, with one of the nation's smallest gender pay gaps.