DC Named Top Market For First-Time Buyers
Posted by Mark Washburn on Wednesday, July 22, 2015 at 11:40 AM
By Mark Washburn / July 22, 2015
Comment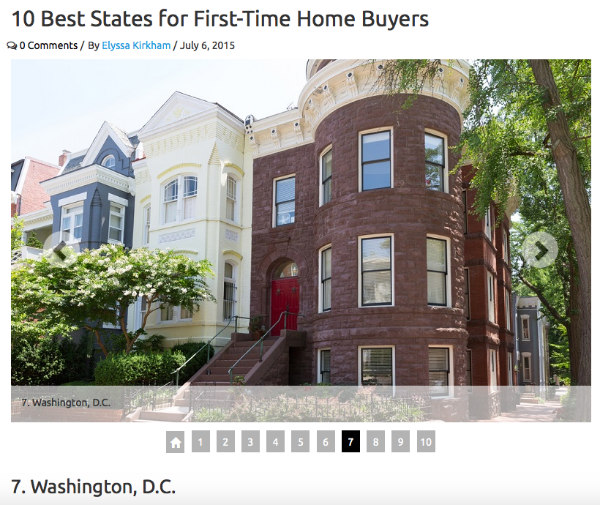 One-third of home purchases, or 32 percent, made in May 2015 were by first-time home buyers, according to the National Association of Realtors, due in part to a strong job market for young adults, lower mortgage insurance and low down payment programs by lenders.  DC was named one of the top markets for new homeowners.  DC scored the highest prices for housing of all the states on this list with a median sale price of $511,885.  The lower median home value of $487,600 means that homebuyers will be trying to buy in a market that favors sellers, so buyers can expect a very competitive housing market.  The median rent price of $2,285 is higher than mortgage payments of $2,420 based on the median sale price.    This means it's better to buy a condo or house in DC than spend money on an apartment that you rent.  Although a major metropolitan area, it is important to note that DC covers a smaller geographic area than the other states on the list.

DC saw a good growth trend of 41.7 percent over 10 years from 2003 to 2013 for first-time homebuyers.  It also had one of the lowest foreclosure rates.  DC enjoys a good reputation for providing local programs to help people buy their first condo or home in downtown DC.  Some programs are: DC Open Doors will forgive part of a deposit loan if you plan to live in DC for a while.  The program provides down payment assistance to homeowners who may exceed income thresholds, but applicants must have a Credit Score of 640 or higher and a maximum debt-to-income ration of 45%.  The program offers 3.5% or 3% loans as a down payment.

Other programs include: Individual Down Development Account, that helps lower-income individuals buy a home.  The program sets up participants with a savings account held in escrow to help them build up the investment and encourage saving.  The Home Purchase Assistance Program gives first-time buyers interest-free loans and helps with closing costs to qualified individuals.  The award amount varies based on income, size of your household and down payment amount, with up to $40,000 in assistance and $4,000 in closing.  The Employer Assisted Program is for first-time buyers who work in the city.  The DC government will match homebuyers up to $1,500 in down payment and a deferred loan up to $10,000.