DC Most Walkable City in Nation
Posted by Mark Washburn on Saturday, July 5, 2014 at 9:36 PM
By Mark Washburn / July 5, 2014
Comment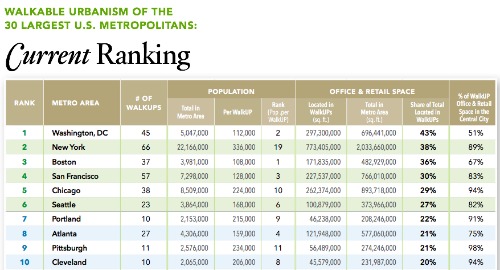 DC continues to be the model of walkable urban growth, ranking higher than New York City, Boston, San Francisco and Chicago.  At #1, DC tops the list of a recent study by George Washington University School of Business professors who studied walkable cities in America's largest metro areas.  DC's urban growth far exceeds its competition, mostly due to 48% of its residents over age 25 have a college degree; the Metrorail subway system continues to expand; DC developers have mastered developing walkable urban real estate; and many WalkUPs are in the DC suburbs with half of office space and retail in urbanizing suburbs.

DC has the highest amount of all offices and retail in the nation.  The walkable "urbanism" provides an economic foundation for the U.S. economy.  Look no further than DC for a truly walkable city.  This means that for those living or visiting a walkable urban place, every day destinations like home, work, school, stores and restaurants are within walking distance.

The GWU professors said results show that Metros that have high walkability correlate to a higher local economy.  The most walkable urban metro areas have much higher GDPs (Gross Domestic Product) per capita.  If you can walk to it, then you can buy there.  Walkable urban development is characterized by higher population density and transportation options, like bus and rail, bike routes and motor vehicles.  This study helps explain why DC's economy is stronger than any other city in the U.S.