DC Metro Has Highest Housing Costs
Posted by Mark Washburn on Monday, October 6, 2014 at 7:49 AM
By Mark Washburn / October 6, 2014
Comment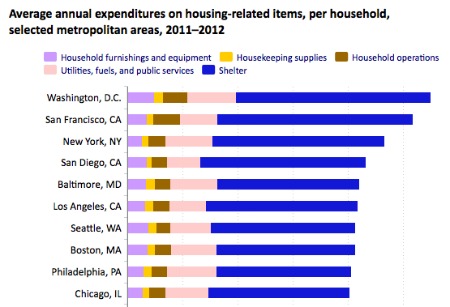 The DC region outstrips New York City and Los Angeles for the highest housing costs in the United States.  DC is #1, according to new U.S. Bureau of Labor Statistics data, when it comes to amount households spend on housing costs per year at $17,603; utilities, operations and furnishings bring the figure even higher. The Bureau of Labor was for 2011-2012 data, so with recent increases in in DC housing costs, we may be even further ahead of the rest of the nation today.

Households in DC spent almost twice as much on shelter than households in Cleveland, Miami and Detroit.  Other Top 5 metropolitan areas in America following DC with high housing costs: New York City, Los Angeles, Philadelphia, Minneapolis-St. Paul and Miami.

DC also can count itself as America's priciest housing market, according to a new report by the U.S. Bureau of Labor Statistics.  While the impact of the Great Recession on the housing market generally saw a collapse in real estate prices in much of the country, the DC market has been stunningly resilient.