DC Metro Area Tops Livability Charts
Posted by Mark Washburn on Friday, February 24, 2017 at 10:52 AM
By Mark Washburn / February 24, 2017
Comment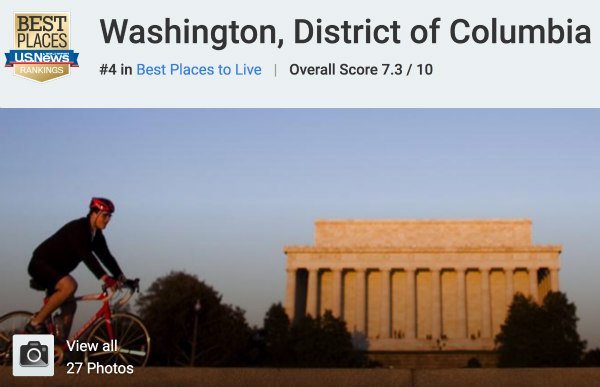 One of the most exciting and politically charged locations to live in the entire nation, a new report gives the DC metro area high marks too when it comes to livability. The annual "Best Places to Live" list, assembled by U.S. News & World Report, just put the DC area as number four on its list for 2017. That's four places higher than 2016, when the greater Washington area came in at a respectable number eight.
The report looks at the top 100 largest metros in the nation, and then ranks them according to things like quality of life, affordability and job prospects. The job market was reportedly what helped DC jump ahead, with the average annual salary in DC well above the national average. While many area residents work in government jobs, the job market in Washington DC also extends to information technology, finance, hospitality and tourist attractions, plus hospitals, schools and universities.
While it should be noted that the cost of living in the DC metro is much higher than the national average, overall unemployment in the region is relatively low. DC also received some high marks for quality of life, the number of new residents moving in, desirability and value.
The publication specifically points out plentiful public parks in the DC area, broad public transit options, plus the abundance of cultural sites, museums and restaurants in the region. As well, Washington DC is also pointed out for the small-town feel of its neighborhoods, blended with the appeal of living in a larger urban area.
U.S. News & World Report uses information from the FBI, the Census and the Bureau of Labor Statistics, along with information gained from a public survey given out to thousands of people all over the country. The top three on the list for 2017 included Austin, Denver and San Jose.