DC Leading Walkable Urban Real Estate Renaissance
Posted by Mark Washburn on Friday, September 7, 2012 at 2:37 PM
By Mark Washburn / September 7, 2012
Comment
The Metropolitan DC region was recently ranked first in the nation for walkable urban places. The region now has 43 distinct walkable neighborhoods scattered across Maryland, Virginia and the District. These walkable districts are attracting significant capital and are viewed as the best places to invest and build by many developers.
DC is at the forefront of this walkable urbanism phenomena, as our market has continued to attract investment capital during the housing downturn. There are now pockets of new development in the vicinity of almost every Metro Station in the system throughout the region. In the District, a wave of new development is underway in a long list of neighborhoods across the city.
Over the last decade, we have seen neighborhood anchors like the Whole Foods in Logan Circle, DC USA in Columbia Heights, and the Verizion Center in Penn Quarter accelerate the re-development of these walkable urban neighborhoods. Living in one of these neighborhoods without a car…..almost unthinkable 15 years ago……is now a reality for many.
It is exciting to see the next wave of development, which in many cases is occurring without neighborhood anchors, throughout the District. Neighborhoods like Shaw, LeDroit Park, Bloomingdale and Edgewood all have a significant amount of new development activity.
One of the tools available to home buyers to evaluate the walkability of a neighborhood or property is the WalkScore. This scoring measures the walkability of a neighborhood on an 100 point scale. A scoring in the 90s is considered a Walkers Paradise. Our website provides the WalkScore for every property currently on the market. This information can be accessed by clicking on the WalkScore tab of any listing as noted below: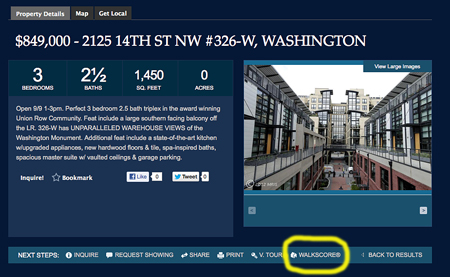 If you are interested in exploring the real estate market, here is a resource to learn more about DC's walkable neighborhoods. Our team is available to help buyers compare and contrast the benefits and challenges of DC's neighborhoods.