DC is Top City for Business Women
Posted by Mark Washburn on Tuesday, August 19, 2014 at 8:30 AM
By Mark Washburn / August 19, 2014
Comment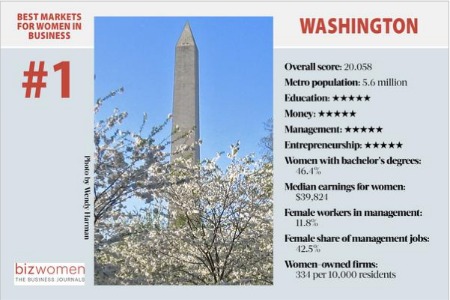 DC offers the best opportunities to start a business or climb the corporate ladder.  A new Bizwomen study ran data to show which city across the country is best for women in business.  DC's market is  #1 in the U.S.  The Bizwomen study looked at the 100 largest metropolitan areas in the country, and DC emerged as the clear winner in all categories.  DC is a female-friendly town.  Women own more than a third of the businesses in DC, which is the highest rate in the entire country.

The top highest scores in the study went to cities with a significant number of well educated, well-paid women who hold positions of power and influence in the business community.  DC has the most educated women in the country: 46% of women in DC have Bachelor's degrees; 21% also hold advanced degrees.  DC beats runner-up San Francisco for earning power----$39,824, besting San Francisco by 9%.  In management, almost 12% of female employees in DC hold a management position.  According to 1 top tech executive who launched her own web design firm, she says DC has an edge over Silicon Valley because it isn't a "one-trick pony" town.  The DC marketplace has women business owners in various fields not just one service or product.  

Another female executive who is CEO of a limo company said the networking opportunities in DC are also unparalleled.  There are resources for women-owned businesses, peers and mentors, support groups and so many places to get help if you are trying to grow a business.  She also gloats about the roster of impressive role models in DC.  NerdWallet also echoes the sentiment that DC is the top city for female entrepreneurs.