DC is Second Best City for Singles in 2015
Posted by Mark Washburn on Thursday, February 12, 2015 at 10:31 AM
By Mark Washburn / February 12, 2015
Comment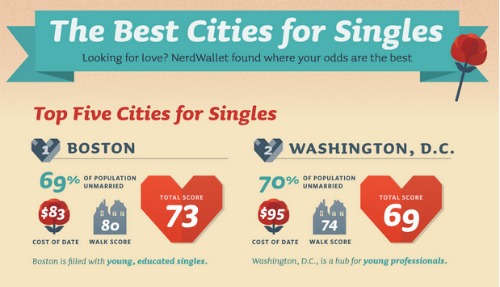 With Valentine's Day approaching and if you are looking for love, today we take a look at the best cities in the USA for singles.  Following Boston, DC ranks #2 as the best stomping ground for singles.  Philadelphia comes in third.  Interestingly, all these top cities are on the East Coast.  To find that special sweetheart, romantics may want to pack up the car and move to DC.  In addition to a large population of unmarried highly educated professionals, DC also has high salaries, ample professional jobs and an unbeatable nightlife.

NerdWallet's third annual "Best Cities for Singles" list ranks the Top 10: #1 Boston, #2 DC, #3 Philadelphia, #4 Baltimore, #5 Cleveland, #6 San Francisco, #7 Detroit, #8 Atlanta, #9 Oakland and #10 Seattle.  DC takes a top spot in the nation for the ultimate formula of a big supply of singles and plenty of social opportunities for wooing that elusive Valentine.  Many dating singles in DC eventually end up on the steps of the Jefferson Memorial to get engaged (including yours truly!).  NerdWallet looked at data in 50 metropolitan cities across the nation to find the best places for singles to live.  Factors judged included: availability of singles, dating affordability (how much it costs to date) and social scene (date-friendliness by looking at number of arts and entertainment businesses and restaurants).

DC boasts a record 70% of residents that are unmarried; a thrilling entertainment scene encompassing museums, theaters and sports clubs; and several highly regarded universities that provide young educated singles also graduate and professional degree programs.  NerdWallet calls the nation's capital "the hub for young professionals " and notes that the higher median incomes offset the high cost of living here.  The cost of a nice date, or a 3-course meal at a mid-range restaurant and a movie, is $95.  DC, moreover, nears the top of the list with a large number of arts, entertainment business and restaurants among the top 20 cities.  Of course, there are many more single women in DC than men so odds of getting a Valentine's date are stacked in favor of single men.