DC Is Least Nerdiest Place in US
Posted by Mark Washburn on Thursday, May 8, 2014 at 5:06 PM
By Mark Washburn / May 8, 2014
Comment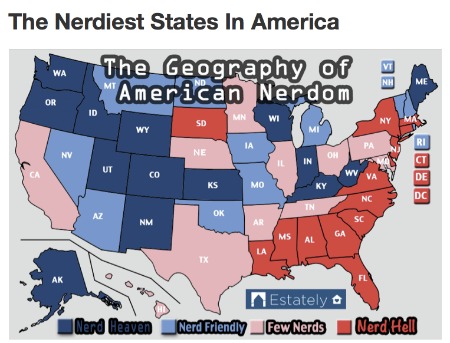 For people who consider themselves nerdy or "geeky," you may want to investigate which state would feel most comfortable to live in since not all states are the same.  While DC residents think of themselves as high-brow intellectuals, overachievers and fans of the cultural arts, possibly bookworms, a new study shows DC as the least nerdiest place in the United States.  Website Estately, a national online real estate search site, looked at the numbers to judge which states in the nation harbor the most nerds per capita.

Facebook data for every state and DC was analyzed by Estately to decide the percentage of users who listed these 12 "nerd" factors as their personal interests: Star Trek; Cosplay; Harry Potter; Star Wars; Anime Movies; Dungeons & Dragons; Live Action Role-Playing; Doctor Who; Fantasy Lit; Lord of the Rings; Magic: The Gathering; and Comic Books.

DC came in at the very bottom---#51---as the least nerdiest state.  Some interesting findings: The South is the least nerdy region of the country.  Prime nerd areas: rural western states.  States with large populations tend not to have high percentages of nerds.  Rhode Island, Utah and Colorado rate high for nerds.