DC is Coolest City in America
Posted by Mark Washburn on Sunday, August 24, 2014 at 8:11 AM
By Mark Washburn / August 24, 2014
Comment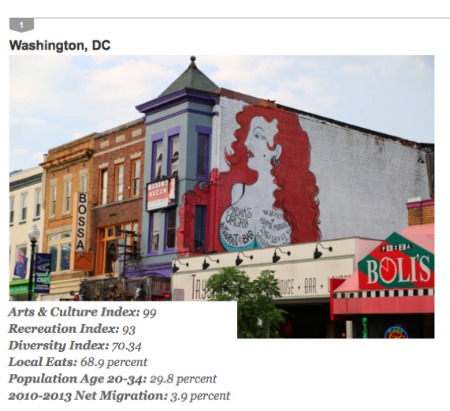 Forbes magazine gives a shout out to DC as "America's Coolest City" on its 2014 list.  DC offers plenty to do and a good size young, hip population.  DC beat out Seattle, Austin, San Francisco, New York and other cities.  Young people are flocking to this area excited by high salaries and a terrific quality of life and social activities.
DC's best features, as characterized by Forbes, include lots of cultural and entertainment options, plenty of recreational activities, bars and restaurants, breweries, farmers markets per capita, ethnically diverse demographics, and a significant part of the population that falls in the 20-34 year age group.  Forbes also points to DC's constant influx of population that has grown almost 5% since 2010.
After DC, Seattle came in at #2 on the list, followed by Austin, Houston and San Francisco.  In addition to free museums and monuments, DC has tapas bars, frozen yogurt shops, spinning studios, wide streets, lots of open green space, a spectacular waterfront, biking and jogging trails, wine shops, arts organizations and quality local eateries.  A safer urban center has led to an influx of young professionals to some of the city's trendiest neighborhoods that are cool, such as H Street, NE and the 14th Street Corridor in Logan Circle.