DC is America's Most Literate City
Posted by Mark Washburn on Thursday, February 13, 2014 at 11:36 AM
By Mark Washburn / February 13, 2014
Comment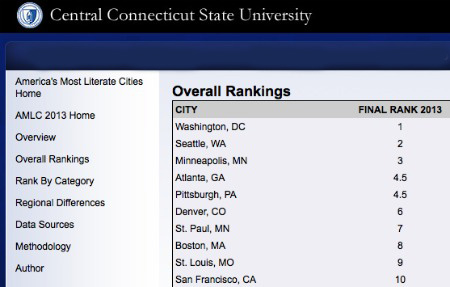 DC ranks #1 once again in all of the US as "America's Most Literate City." This is the fourth year in a row that DC has ranked #1. Rounding out the Top 5 after DC are Seattle, Minneapolis, Atlanta, and Pittsburgh.

The study by Central Connecticut State University attempts to capture our nation's social health---the literacy of its major cities with a population of 250,000 or larger as of July 1, 2012. The study focuses on 6 indicators of literacy: number of bookstores, educational attainment, Internet resources, library resources, periodical publishing resources, and newspaper circulation of cities with a population over 250,000 people.

DC ranked outside the Top 10 in only two categories---bookstores (16th) and library (15th). This study primarily tries to understand how much people are reading and where they are reading the most. Our lofty literacy ranking follows DC being named as the Fifth Best US City in January and the Nation's Leading City For Salary Increases late last year. Makes sense that our literate residents are are at the top of the wage scale and are qualifying for top wages.