DC is a Top City for Creating Wealth
Posted by Mark Washburn on Wednesday, November 2, 2016 at 10:35 AM
By Mark Washburn / November 2, 2016
Comment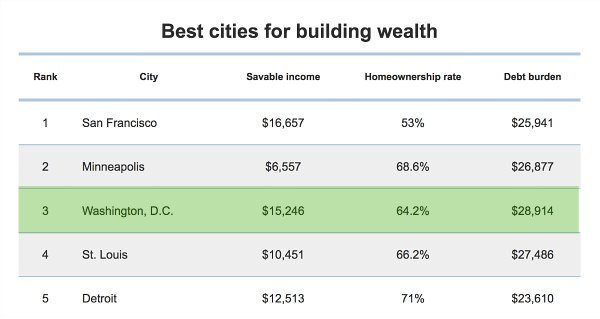 Known for its sometimes pricy options in real estate it seems Washington D.C. is also a top contender for building wealth. That's according to a new study by Bankrate, a website focused on personal finance, providing everything from consumer friendly information on mortgages and money market accounts to information about checking, credit cards and retirement.
According to the survey, D.C. comes in at number three on the list of cities behind San Francisco and Minneapolis. The District beats out other big cities like Los Angeles, Chicago and New York by several submissions, as St Louis and Detroit round out the top five.
To come up with the ranking Bankrate took into account several factors, including debt burden, homeownership benefits such as the ease of purchasing a home, access to loans and mortgages, human capital and savable income, or rather the true difference of what residents are earning versus what they're spending.
For the D.C. area it translates to a homeownership rate of around 64-percent with average savable income topping $15,000. While some other cities surveyed may at first glance appear cheaper than D.C., when all factors are taken into consideration residents there may have a tougher time building wealth. The debt burden for the District came in at just under $29,000.
Experts say true household wealth, not just annual income, plays a big part in a person's financial well-being. Not only does it make it less stressful if an unexpected expense pops up but too much stress can actually negatively affect your overall health. With that in mind it's suggested that owning a home of some kind is extremely important for wealth-building, being that most of an American's wealth is commonly tied to their home, whether home equity for retirement or home equity for someday helping finance your child's college education.
This is the second year for the study and the second year for Washington D.C. to be named as one of top cities on the Bankrate list.