DC is 5th Best City for 2013
Posted by Mark Washburn on Saturday, January 11, 2014 at 11:28 AM
By Mark Washburn / January 11, 2014
Comment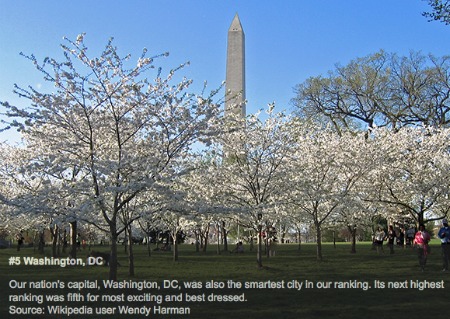 A tongue-in-cheek survey of what makes America's metros great by Moveto ranks DC as the 5th best city for 2013.  Categories looked at over the course of a year by Movoto real estate blog covered areas such as cities with the nerdiest, smartest, hardest working, most exciting, and family-friendly residents.  Their self-proclaimed "Saturday Night Science" data showed DC #1 for Smartest city in America for 2013, as well as high rankings for Most Exciting city, Best Dressed, Food Lovers, Hardest Working, Funniest and Healthiest.

Topping the list is Portland, Oregon, followed by Atlanta, Seattle, San Francisco and DC. of the 50 cities looked at in this study. The DC area is home to more new residents between the ages of 25-34 than any other city in the U.S.  In a separate survey of workers across the U.S., DC comes in 4th nationally for per capita income among the 50 largest metro areas.  The DC metro's per capita income in 2013 was $61,743, up 1.5% from the previous year, despite last year's slowdown in income growth across the U.S.  DC ranks #3 in the U.S. for wealthy residents, with workers earning 75% more than the national average.  Well-paid Washingtonians are putting big salaries and low interest rates toward purchasing condos or homes in the DC area.

DC is one of the nation's most walkable cities, coming in at #7 in a list of most walkable cities and neighborhoods in the U.S., according to Walk Score.  The ranking is based on access to public transportation, commute times, bike friendliness, and proximity to amenities.  DC's most walkable neighborhoods include Dupont Circle, Logan Circle, Downtown, Chinatown and the U Street Corridor.