DC Home Owners Among Most Likely to Move
Posted by Mark Washburn on Friday, September 7, 2018 at 8:32 AM
By Mark Washburn / September 7, 2018
Comment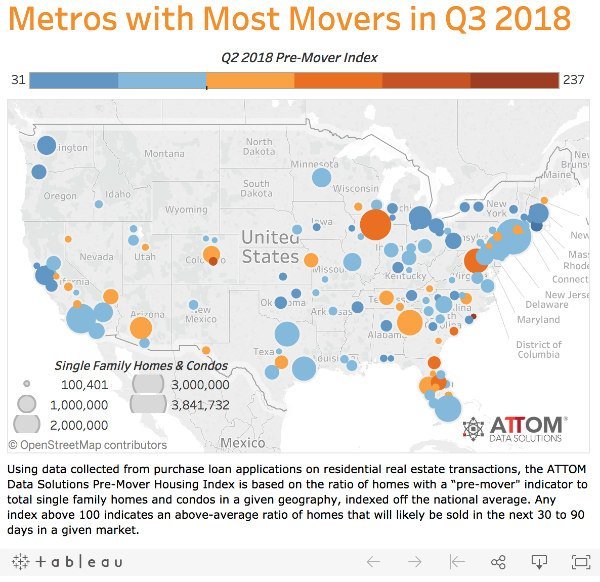 Graphic: Attom Data Solutions
While many of us would probably like to find the perfect home or perfect community and stay awhile, it seems DC homeowners are among the most likely to see a moving truck in the near future. At least that's suspected based on newly analyzed mortgage application data.
The analysis comes out of the newly compiled ATTOM Data Solutions' Pre-Move Housing Index. The real estate data analytics firm takes in the information, primarily based on the top three-dozen metro areas with at least a half-million single-family homes and condos.
When indexed, those locations scoring higher than 100 place above the national average, reflecting that more homes are likely to be sold there over the next 90 days. On the other hand, a metro scoring lower than 100 suggests just the opposite.
Washington DC joins Chicago, Tampa/St Pete, Orlando and Atlanta at the top of the list of 36 metro areas. When expanded out to include upwards of 130 metro areas, DC also ranks high.
Of course, that's good news for real estate agents, moving companies and home improvement stores with direct ties to home sales. Typically, though, the metros that ranked at the bottom of the index were either experiencing weak demand from buyers, a low inventory for buyers, or even both.
When breaking it out to counties, three DC area counties made the list, including Loudon County, Alexandria City and Spotsylvania County. As for a statewide look at the data, Virginia takes the number four spot.
While the new data doesn't make presumptions on where people are moving to after selling their homes, DC-area residents do tend to move throughout the area. Other data suggests about 30-percent of new DC residents come from certain surrounding areas, while it's suggested about 40-percent of DC residents eventually move to those same surrounding areas.