DC Growth Spurred By Young Adults
Posted by Mark Washburn on Thursday, May 5, 2011 at 7:56 AM
By Mark Washburn / May 5, 2011
1 Comment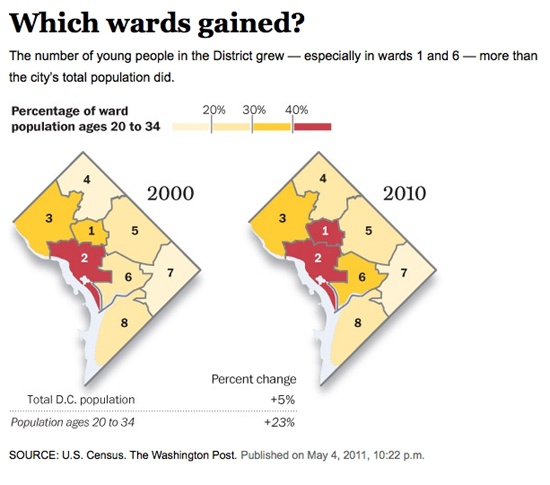 A recent WaPo article details the changing demographics in the District. Over the last ten years, DC has seen a five percent increase in overall population and a whopping 23% of this growth has come from young adults in the 20 to 34 age group.

DC Wards 1 and 2 are dominated by young adults with over 40% of their residents in the 20 to 34 age grouping. Wards 3 and 6 are also strong draws for young adults with over 30% of their population between the ages of 20 to 34.

Neighborhoods cited in the article contributing to the growth in DC's young adult population include Capitol Hill, the Northeast, downtown, Shaw and Logan Circle. This certainly makes sense as a significant portion of the District's new development over the last decade has been concentrated in these neighborhoods.