DC Fourth Nationally For Road Rage
Posted by Mark Washburn on Thursday, May 29, 2014 at 8:05 PM
By Mark Washburn / May 29, 2014
Comment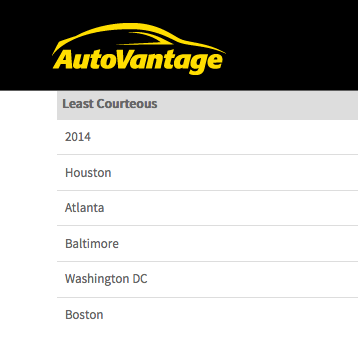 DC movers and shakers move fast, even behind the wheel.  DC was named the fourth least courteous city in a survey on driver behavior.  Every driver, pedestrian and cyclist has probably experienced some type of road rage on the roads in DC, whether delivering the road rage or receiving it.  Washingtonians are busy people so step out of the way!

The 2014 "In The Driver's Seat Road Rage Survey" by AutoAdvantage, a car and roadside assistance service, looked at 25 metro cities and studied their behavior, observations and attitudes related to road rage.  The survey participants were drivers who commute during rush hour traffic and drive at least 3 days a week.  Both the least and most courteous cities in the U.S. were named.

DC's high ranking as #4 out of 25 cities with road rage is attributable to bad traffic congestion, aggressive drivers and horrible behavior, so says AutoAdvantage.  Houston was named as having the least courteous drivers in the U.S., followed by Atlanta, Baltimore, DC and Boston.  For the second time in 5 years, Portland has been named as the city with the most courteous drivers; Pittsburgh was #2 and St. Louis at #3.  Five other major cities in the U.S. have worse traffic congestion problems than DC, according to navigation maker TomTom: Los Angeles, San Francisco, Honolulu, Seattle, San Jose and DC.

The big headache of getting to work into DC from the suburbs is pushing many folks to re-think their lifestyle, and sell their suburban homes in favor of downtown DC residences.  Many empty nesters are trading in their large suburban four bedroom homes when they grow tired of spending a couple of hours commuting to and from work and---feelings of road rage---in favor of moving into a close-in neighborhood with unique floor plans, condo amenities, high ceilings, outdoor living spaces and most of all, very little commute times.