DC Fourth Nationally For Millionaires
Posted by Mark Washburn on Wednesday, October 15, 2014 at 10:08 AM
By Mark Washburn / October 15, 2014
Comment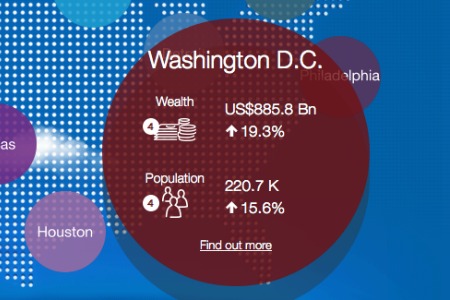 DC is replete with high-profile politicians, lobbyists, government contractors, and time-starved executives but also lots and lots of millionaires. The Washington region ranks #4 in the country for number of high net-worth individuals. DC is one of the very top U.S. cities that attract the wealthy. DC is also home to 16 billionaires.
The annual U.S. Wealth Report by two top wealth management groups, Capgemini and RBC Wealth Management, reports 221,000 individuals in DC have investable assets of at least $1 million, excluding real estate holdings. Only 5% of the country qualifies as true millionaires. Washington millionaires grew by an astounding 15.6% last year. DC millionaires' net worth rose by more than 19% for a combined $886 billion last year, ranking #6 in the U.S.
New York, Los Angeles and Chicago took the first three spots for high net worth individuals followed by DC. DC outpaces the rest of the top 10: San Francisco, Boston, Houston, San Jose and Dallas. Millionaires prefer easy commutes with fast-growing industries. DC comes in at #3 for the top 8 U.S. Cities that attract millionaires, according to Wall Street Personal Finance Cheat Sheet. DC has a metro population of 5.6 million residents and an 8.8% concentration of millionaires. DC was largely spared some of the worst recession other states experienced because of its large federal government and military workforce that did not make big workforce cuts.