DC Fittest Region in Country
Posted by Mark Washburn on Thursday, June 12, 2014 at 10:55 AM
By Mark Washburn / June 12, 2014
Comment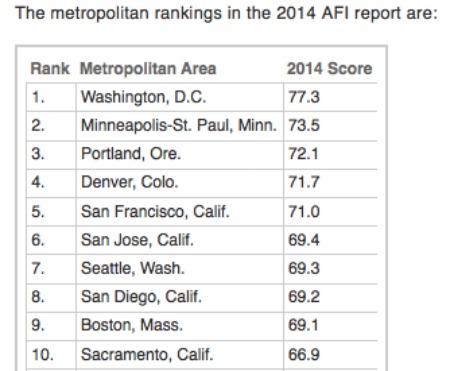 When it comes to being fit and healthy, DC is the fittest metropolitan area in the U.S.!  Living in DC encourages a healthy and fit lifestyle for residents.  The DC area ranks #1, and tops the list of the "Health and Community Fitness Status of the 50 Largest Metropolitan Areas," according to an annual report by the American College of Sports Medicine.  In its seventh Annual Fitness Index, the College looked at factors making up the Annual Fitness Index including a city's composite of preventive health behaviors, levels of chronic disease conditions, and community resources that support physical activity.
The DC Metro area, including Virginia and Maryland, scored a high of 77.3 out of 100 points.  U.S. Census and CDC data revealed DC as the fittest in the nation.  The two primary categories researchers focused on were personal health, and community and environment, like the city's walkability score and how many residents use public transportation.
After DC, other "fit" cities include Minneapolis-St. Paul; Portland, Ore; Denver; and San Francisco.