DC Fittest Metro In The Country
Posted by Mark Washburn on Wednesday, June 10, 2015 at 9:53 AM
By Mark Washburn / June 10, 2015
Comment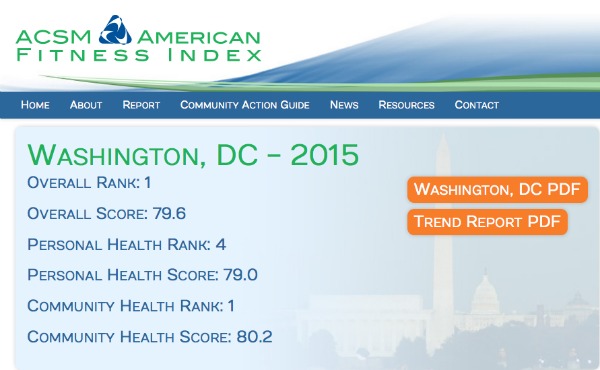 For the second year in a row, the DC area again has won the title of the fittest city in the nation out of the 50 largest metro areas.  DC ranked ahead of Minneapolis-St. Paul, San Diego, San Francisco-Oakland and Sacramento.  The American College of Sports Medicine gave the DC area a score of 79.6 out of 100 points as part of the American Fitness Index's annual report released in May.

This score makes DC the highest in the country, and beat its own score last year of 77.3.  The American College of Sports Medicine analyzes several factors related to health and fitness across 50 big cities.  Such factors include health behaviors, residential recreational facilities, chronic health problems, and built environment.  The report gave high marks to DC for its high percentage of city parks; more farmers markets per capita; high use of public transportation to work; high use of bicycling or walking to work; high Walk Score; high rate of population within 10-minue walk to a park; more parks per capita; more recreation centers per capita; more swimming pools per capita; more tennis courts per capita; its low angina or coronary heart diseases; low death rate for cardiovascular disease; and low death rate for diabetes.

One trend is clear.  The more pedestrian-friendly the city, the healthier is its residents.  DC as the "Nation's Fittest City" reveals that personal and environmental factors are important to the rankings.  The Fitness Index measures how healthy a metro area is, and stresses the importance of city leaders to design infrastructure that boosts active lifestyles to make for healthy residents.  In DC, 95% of the population lives within a 10-minute walk to a park.  In Indianapolis, on the other hand, the percentage drops to a low of only 31% of residents near a park.  Indianapolis came in dead last as the nation's least fit city, with Memphis and Oklahoma City very close behind.