DC Expensive Metro to Raise Family
Posted by Mark Washburn on Monday, January 18, 2016 at 7:21 AM
By Mark Washburn / January 18, 2016
Comment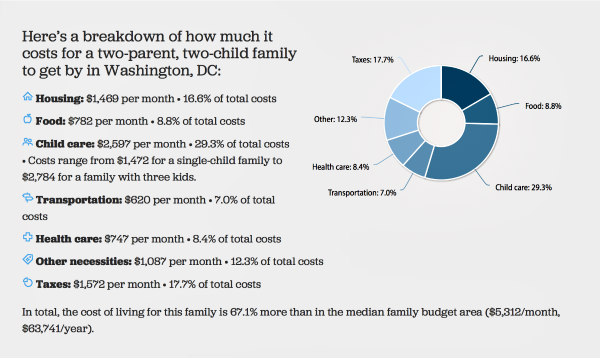 DC is one of the most expensive metro areas in the country to raise a family, NBC News confirms.  Based on data analyzed by the Economic Policy Institute (EPI), a nonprofit, nonpartisan think tank that studies economic policies on behalf of low-and middle-income workers, DC is one of the top most expensive places in the country to live as a single person, and as a family with children as well.  The study measured two-parent households with one child in metropolitan areas around the country.  The data is derived from EPI's family budget calculator, measuring the income a family needs in order to have at least a modest standard of living.

The calculator totaled the cost of housing, food, health care, child care, taxes and transportation for over 600 metropolitan areas in the United States.  Housing costs eat up the biggest share of family budgets in the top most expensive cities in the nation.  A two-parent-one child household living in D.C. needs to spend $81,783 a year to get by.  The figure does not include savings or discretionary spending.  DC comes in at No. 2 in a list of the Top 10 most expensive metro areas in America, following Nantucket Island-Martha's Vineyards, Massachusetts.  Rounding out the Top 10 cities: Stamford-Norwalk, Connecticut; New York City, New York; Honolulu, Hawaii; Nassau-Suffolk, New York; Arlington-Alexandria, Virginia; San Francisco, California; Boston, Massachusetts; and Westchester, New York.

Child care accounts for the next biggest slice of a family's budget, after housing.  DC has the highest cost of child care in the country, according to a separate report released last month by Child Care Aware of America.  In DC, the annual average cost for home-based child care is $16,006, while the average cost for infants' center-based care is $22,631.  Infants' center-based day care is more expensive than sending a child to day care in a house.  That is to say, DC day care costs three times more than public college tuition.  This amounts to roughly 14 percent of the average married family's income in DC.