DC Condos in Converted Churches
Posted by Mark Washburn on Thursday, March 10, 2011 at 6:44:41 PM
By Mark Washburn / March 10, 2011
2 Comments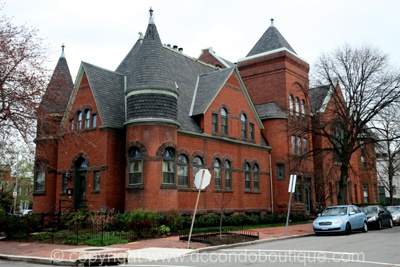 As church going habits and neighborhood demographics change, many church buildings are no longer in use as places of worship. As we have seen with surplus District schools, a conversion to residential condos can bring a second life to a surplus building. Several of our converted schools like Bryan School Lofts and Wormley Row are considered among the finest developments in the city.

Although there have not been as many church conversions in the District as converted schools, there are a coupe of notable conversions including:
Bishop's Gate
While technically not a church building re-use, Bishop's Gate is a conversion of the former St Augustine School, rectory and convent along 15th Street between R and S Streets. After the merger in 1979 of St. Augustine's and St Paul's, this parcel and the associated buildings were sold for re-development.
Bishop's Gate is a gated community of 82 condos surrounding a beautiful courtyard. Bishop's Gate units are available in a variety of floor plans in the different buildings. Many of the units have been beautifully renovated by their owners. Underground parking is a valued amenity by the residents of Bishop's Gate.
This Logan Circle location is within walking distance of both the U Street and Dupont Circle Metro Stations. It is also very close the the Whole Foods and all the urban action throughout the mid-town DC neighborhoods.
View Bishop's Gate listings
.
Grace Church
Originally built in 1891, Grace Church was a fixture on 9th Street SE for over 60 years until its reincarnation as Faith Baptist Church in the 1950s. In the late 1990s, Capitol Hill Developer Herrema Associates acquired the badly run-down property and converted it into 24 boutique condos.
Grace Church has proven to be a very popular project as evidenced by the quick resales when units do come on the market. Owners appreciate the unique architectural details available in each and every condo in the project.
The Grace Church location on Capitol Hill at the corner of South Carolina, 9th Street and D Street is just a block from the Eastern Market Metro station. Grace Church residents enjoy walking to Eastern Market, Barrack's Row and all the other attractions on the Hill.
View Grace Church listings
.
Residences at St. Monica's
The Residences at St. Monica's is a new development on Capitol Hill slated for delivery later this year. With the 2009 merger of St. Monica's and St. James, the 1908 building formerly housing the St. Monica's congregation was sold to developer Community Three Development.

The project will feature nine boutique condos with architecturally unique features. Four of the condos will have original stained-glass windows and the church alter will be the kitchen center-piece of another unit. Original brick walls will remain and be prominent throughout the project. Each residence will have a private outdoor entrance and use of the private interior courtyard.

Located on Massachusetts Avenue SE between A Street and 14th Street, St. Monica's is just a block from Lincoln Park. The nearest Metro Station is Stadium-Armory, just over 1/2 mile away. View Residences at St. Monica's listings.