DC Cherry Blossoms 2018
Posted by Mark Washburn on Wednesday, March 21, 2018 at 3:15 PM
By Mark Washburn / March 21, 2018
Comment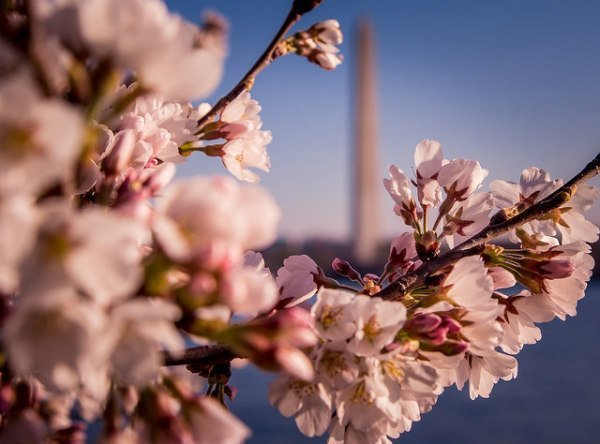 Photo: Trevor Klatko
An annual tradition is nearly in full bloom in DC, where the area around the Tidal Basin will soon erupt into a flowering display of springtime. One of the most anticipated times of year in our nation's capitol, this is when the celebrated Cherry Blossoms get ready to bloom, an event that's been known to attract around 1.5-million people to the area each year.
Many hope to plan their visit around peak bloom, which this year could come even earlier than in past years. Due to warmer temperatures as of late, it's estimated that most of the Yoshino Cherry Blossoms will be in full bloom between March 27 and March 31. In other years that hasn't happened until late March or early April.
Predicting peak bloom time can be a bit tricky, as it's sometimes hard to ensure the unpredictably of Mother Nature. That peak bloom time typically only lasts for a few days when it does happen, and the blooms usually fall off about two weeks later.
Depending on weather conditions, the peak bloom this year could still slightly overlap the official dates of the National Cherry Blossom Festival, planned from March 20 through April 15. An opening ceremony will kick off on March 24, a Kite Festival at the end of the month, and a parade rounds out the festival in mid April.
Newly planned events this year additionally include the accompanying Petalpalooza festival in early April, featuring live music on a trio of waterfront stages at The Wharf. In addition, visitors there will be treated to art projects, games, two beer gardens and a fireworks show. Also this year, the Sakura Matsuri Japanese Street Festival moves back to Pennsylvania Avenue, timed to follow the main festival's parade.
DC's famed Cherry Blossom trees were a gift from Japan near the turn of the century. The Cherry Blossom Festival is said to bring in upwards of $160 million to the local economy each year.