DC Area Leads Nation in Charitable Giving
Posted by Mark Washburn on Thursday, July 10, 2014 at 12:19 PM
By Mark Washburn / July 10, 2014
Comment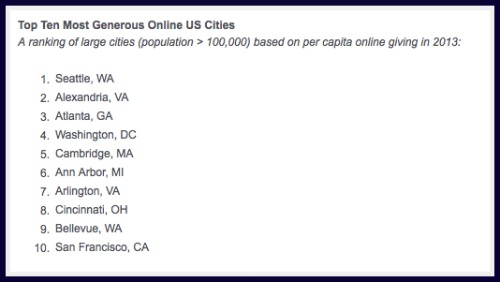 Three of the Top 10 Most Generous Online Charitable Giving Cities in the U.S. in 2013 were in the DC area: Alexandria, VA; DC; and Arlington, VA.  Blackbaud ranked the top cities in America based on online giving.  Seattle, WA came in at the top spot.
Some U.S. locations consistently rank high in digital giving.  The report by Blackbaud, a software company dealing in fundraising solutions for nonprofits, looked at 265 cities with populations over 100,000 based on per capita online giving and total amount donated online through Blackbaud's variety of online giving solutions.
Donors gave more than $822 million from 8.3 million donations online last year in the 265 major cities.  In the highest-ranking DC area city, Arlington, residents made 72,031 charitable online donations for a total of $7.3 million---that is $33,671 per 1,000 residents.  DC continues to have residents who care, and give to charities in record numbers.