DC 6th Nationally For Traffic Woes
Posted by Mark Washburn on Monday, November 18, 2013 at 10:31 AM
By Mark Washburn / November 18, 2013
Comment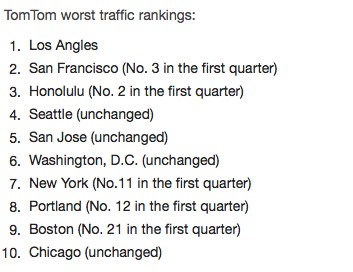 Courtesy of Washington Business Journal
Five other major cities in the U.S. have worse traffic congestion problems than DC, according to navigation maker TomTom, but that's not much comfort for DC drivers stuck in traffic commuting to and from work on a daily basis.  DC ranks #6—same as last year-- in TomTom's Traffic Index study.  Los Angeles continues to hold the same spot as the past 6 years, coming in at #1.  The Top 5 worst traffic rankings are: Los Angeles, San Francisco, Honolulu, Seattle and San Jose.  The least congested metro area? Phoenix.

Washington drivers average 67 hours and 32 gallons of gas each year sitting in traffic, according to the Texas A&M Transportation Institute.  In the nation's most congested cities, drivers face peak hour congestion that can increase travel time during rush hour by 15% or more.  Everything adds up to taking longer to commute in light traffic in DC: weather, bad crashes, special events, roadwork construction and presidential motorcades.  This, of course, extends travel time during both morning and evening rush hours to make your commute even longer.  DC has average commutes of more than 34 minutes—one of the longest in the nation, only behind the New York metro area.

On the other hand, DC residents are better off than residents in a lot of other areas of the country because we have a topnotch public transportation system with Metro and city buses that run frequently throughout the city as well as many DC employers allow for flexible work schedules.   Large stretches of I-95 and the Capital Beltway ranked among the worst congestion corridors in the U.S.  In many of the worst cities for traffic congestion, a high percentage of commuters use public transportation. 

Traffic congestion is among the top reasons empty nesters in DC are selling their suburban homes in favor of downtown DC residences in booming neighborhoods like the Penn Quarter and Logan Circle.  The growing challenges of getting to work into DC from the suburbs is pushing many empty nesters to give up their large suburban 4 bedroom homes when they grow tired of spending a couple of hours commuting to and from work.  This so-called inbound migration has become a very popular lifestyle change.  Newer developments in DC offer unique floor plans, and more luxurious amenities in condos with high ceilings, elegant finishes and outdoor living spaces in the form of balconies and terraces with views of the city.