DC 3rd Nationally for Salaries
Posted by Mark Washburn on Thursday, July 19, 2012 at 4:44 PM
By Mark Washburn / July 19, 2012
Comment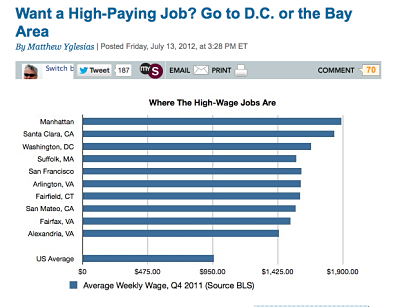 While the national economy sputters along, the DC economic engine continues to pace the nation. The Bureau of Labor Statistics Fourth Quarter 2011 report highlighted that DC is now 3rd in the nation for average wages, with Washingtonians earning 75% more than the national average. DC now trails only New York City and Santa Clara in average wages.

Based on several key performance indicators of the DC real estate market, many well-paid Washingtonians are eagerly taking advantage of record low interest rates to invest in the market. Our current inventory of available DC listings was 33% lower in April than a year ago. Additionally in April the average days on the market for DC property dropped from 83 days to 67, a 19% reduction from last year. These are just a couple of the many stats detailing the strength of our local real estate market.

If you are currently renting and interested in learning more about purchasing in the DC real estate market, the DC Condo Boutique provides an overview of the popular DC neighborhoods and developments.