DC 2nd Nationally in Household Income
Posted by Mark Washburn on Thursday, August 21, 2014 at 1:32 PM
By Mark Washburn / August 21, 2014
Comment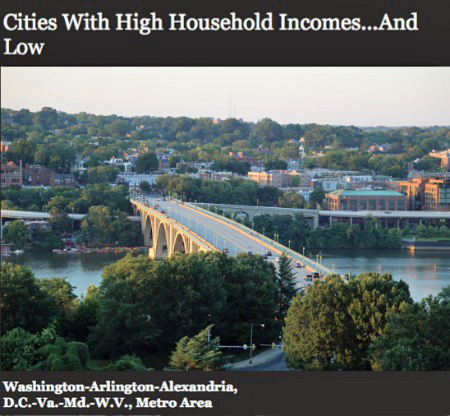 While the economic recovery across America continues and many jobs lost are being replaced with lower-paying ones, DC is in a unique position: 44.1% of households have incomes greater than $100,000 while only 11.5% of households earn less than $25,000.  These numbers are staggering in light of a disproportionate share of low wage jobs taking hold in many parts of the country.  California tech hubs in San Jose-Sunnyvale-Santa Clara boast the highest income levels in the country; DC ranks #2 in highest household income.

A study by the U.S. Conference of Mayors released figures this month showing income gains further skewed toward the wealthy, while parts of the US. have the most income inequality.  The study suggests from 2005-2012 median household income fell in much of the U.S., continuing a trend of more money going to the richest households.

The DC-Arlington-Alexandria and San Jose-Sunnyvale-Santa Clara metro areas have the highest percentage of households making more than $75,000 and the lowest percentage making less than $35,000.