Crystal City to National Airport Walkway
Posted by Mark Washburn on Friday, December 15, 2017 at 10:43 AM
By Mark Washburn / December 15, 2017
Comment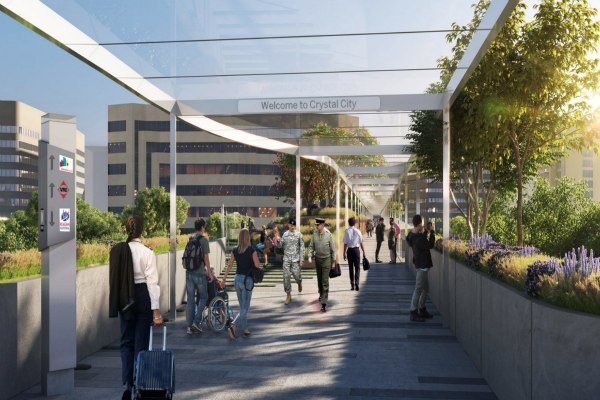 (Courtesy Crystal City Business Improvement District)
It could someday be extremely easy to make your way from Crystal City to National Airport. The Crystal City Business Improvement District hopes to spur interest in a future plan linking the two sites via a pedestrian walkway.
That vision was recently unveiled to the public, with hopes of cutting down the walk between the two places from about 15 minutes to an impressive five minutes, or even less. The idea has been in the works for a while, as consultants have been looking at what it would take to actually construct the walkway and make it functional.
Currently, walking from Crystal City to the airport is not very far, but it's hardly convenient. Proponents of the walkway say constructing a new walkway would not only make it easier, but also a better experience all-around for pedestrians.
As of now, exact details of the plan are not finalized, but one particular plan that seems to have high interest includes constructing a bridge inline with New York City's High Line. The plan could also be a tunnel, though, which would then connect with an airport security gate.
Moving sidewalks, such as those commonly used inside actual airports, could be incorporated into the plan, plus there could be access points to the Mount Vernon Trail. Proponents believe the walkway would not only make the walk between Crystal City and the airport more convenient and help with the region's transportation needs, but would also boost the area's opportunity for future economic development.
No matter which plan is ultimately approved, it could take another year or so of planning for the walkway to move forward, followed by several more years before it opens to the public. Currently, the Crystal City BID is working with the county and the Virginia Railway Express in hopes of making the plan reality.