Crystal City to DCA Walkway
Posted by Mark Washburn on Friday, November 29, 2019 at 5:23 PM
By Mark Washburn / November 29, 2019
Comment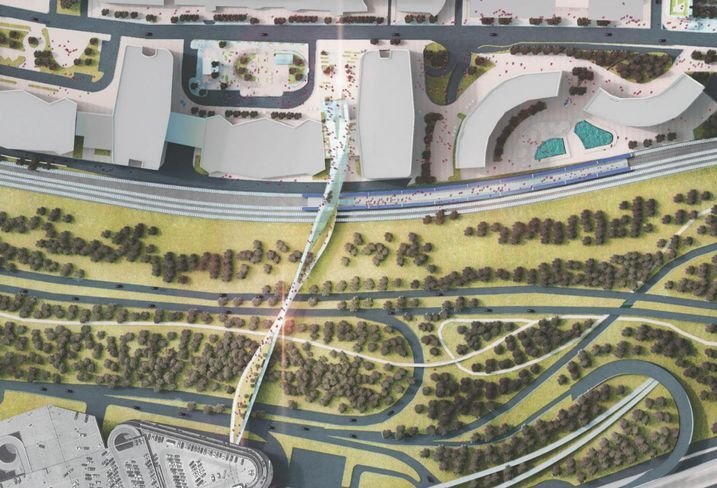 Courtesy of Skidmore Owings & Merrill LLP
A plan to connect up Crystal City with Reagan National Airport could be even closer to reality. Called CC2DCA, the plan calls for a pedestrian bridge or tunnel to connect Crystal City to an airport parking garage.
If this happens, it could mean a five-minute walk to the airport. Not only would it be convenient for area residents and visitors, but it could also mean big news in terms of economic development and sustainability for the area.
According to a feasibility study by the Crystal City Business Improvement District, a new walkway would likely attract new development, new businesses and new residents. It could also potentially someday lead to high-speed rail service.
While the airport is only about 1,500 feet from Crystal Drive in Crystal City, it often takes up to 35 minutes to walk between the two. That's because existing routes are mostly indirect and hard for pedestrians to navigate.
Incidentally, Amazon's new headquarters is going in about 1,800 feet away from the airport. That has some suggesting the proposed walkway is gaining new traction.
Such a connection would also link up the airport to Metrorail stations, premium bus service, the Mount Vernon Trail and the Virginia Railway Express stop. That's significant because 23 million passengers fly in and out of the airport annually. The airport also has 9,000 employees.
Funding comes partially from the Arlington County 10-year Capital Improvement Program and was included as part of infrastructure listed in the Amazon HQ2 package. The estimated cost on the low end would likely be about $16 million, but that price could double.
The end result would probably take a number of years to complete. Past projections estimate it would take about a year of planning, followed by another couple of years for design and environmental work, and then two more years for permitting and construction.