Crystal City Business Improvement District
Posted by Mark Washburn on Monday, May 13, 2019 at 12:23 PM
By Mark Washburn / May 13, 2019
Comment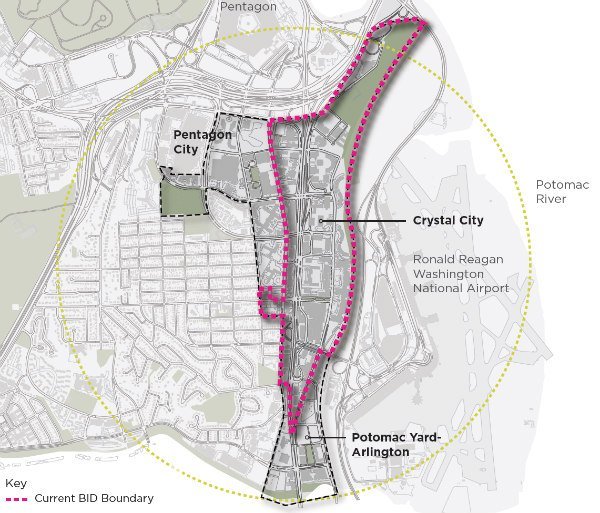 Graphic: Crystal City Business Improvement District
Formed to promote the offerings of Crystal City, the Crystal City Business Improvement District works to continually promote local restaurants, retailers, businesses and the residential community as a whole. Essentially a BID is a private/public partnership for business and property owners to collectively contribute to the development, promotion and maintenance of a commercial district.
Property owners within the boundary elect a Board of Directors to governor the BID. The board is made up of a mix of tenants, business representatives, property owners, and others with an interest in the area.
The Crystal City BID has six core areas it focuses on including economic development, transportation, public realm and beautification. In addition, board members take on marketing and promotion, community events and outreach, and administration and management.
There are several such partnerships in the DC area and in other areas of the country. In Crystal City, property owners within the BID pay a special tax, which in this case is 4.3-cents per every $100 in assessed property value.
For this fiscal year, Crystal City's BID has a budget of around $2.6 million. That could increase substantially, however, should a plan recently proposed by the Crystal City BID move forward.
Currently the area's BID includes around 240-acres, generally from South Eads Street to George Washington Memorial Parkway, Potomac Yard-Arlington to I-395 in the north. That could change pending the outcome of a new strategic plan.
Crystal City's BID could potentially grow by about 70-percent, taking in all of Arlington's Potomac Yard and parts of Pentagon City if the Arlington County Board grants its approval. The strategic plan envisions someday including all of National Landing, the site of Amazon's second headquarters.
With that new expansion, the new Crystal City BID would include hundreds of retailers and restaurants, thousands of hotel rooms and residential units, plus more than 12-million square feet of office space. It would also boost the BID's annual budget to around $4.3 million.