Crestwood: Live By Rock Creek Park in DC's Gold Coast
Posted by Mark Washburn on Wednesday, May 1, 2013 at 9:43 AM
By Mark Washburn / May 1, 2013
Comment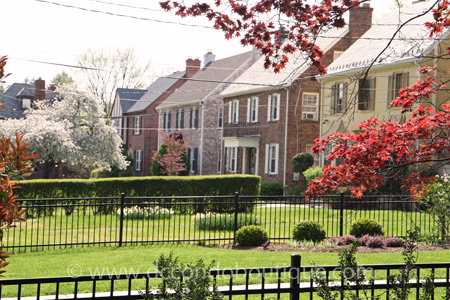 Crestwood
is a tranquil neighborhood in DC's Gold Coast, an upscale entirely residential community that is nestled between upper 16th Street and Rock Creek Park.  It sits near some of the city's more popular neighborhoods, yet is distinctly quieter since there is almost no thru-traffic.  Crestwood is a neighborhood with green lawns, flowering bushes, expensive houses and quiet streets located north of Columbia Heights and Mount Pleasant.

Crestwood was originally a 300-acre estate purchased by a single owner in 1720.  In the 20th century, the area began to see single-family home development.  It lies west of 16th Street and bordered on all three sides by Rock Creek Park hiking and biking trails.  Most of the houses sit on big, leafy lots.

While many of the homes in Crestwood are brick Colonials with four or five bedrooms, there are a mix of housing styles, including large Tudors, some ranch houses, and row houses.  Crestwood has a distinct neighborhood feel, with residents who organize annual events for holidays and who communicate via an active listserv.  Crestwood is a commuter's paradise close to Silver Spring, Bethesda and downtown DC.  Two metro stations are within walking distance, and multiple bus lines run north and south.  For drivers, the neighborhood is near several major thoroughfares, including 16th Street, Beach Drive, and Connecticut Avenue.  Heading north from the White House on 16th Street, Crestwood is among the first neighborhoods that features single-family homes and green lawns.

Just to the north, residents can take advantage of the Carter Barron Amphitheatre and William H.G. Fitzgerald Tennis Center.  The amphitheatre hosts concerts and many free cultural events during the spring and summer months, and the Legg Mason Tennis Classic is played at the Tennis Center next door.