Columnist David Brooks Sells Cleveland Park Home
Posted by Mark Washburn on Friday, October 3, 2014 at 9:27 AM
By Mark Washburn / October 3, 2014
Comment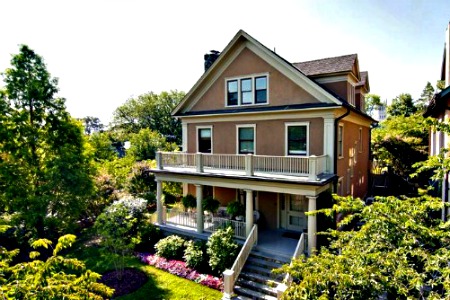 Quicker than a blink of an eye, New York Times columnist David Brooks sold his Cleveland Park home for $4.5 million in less than 48 hours in September.  The century-old 6 bedroom, 4.5 bathroom Colonial home off Wisconsin Avenue in fashionable yuppie Cleveland Park presumably went fast since not much is on the market now of that size.
Journalist and author Brooks and his wife Sarah purchased the home less than 2 years ago for $3.95 million.  Real estate in the coveted Northwest neighborhood holds its value and often shows increases in a short time.  The Brooks couple is reportedly divorcing after 27 years of marriage.  Cleveland Park is home to a prominent number of DC's media and government elite.  Brooks can count columnist Al Hunt and PBS anchor Judy Woodruff as his neighbors as well as PBS executive editor Jim Lehrer.
Brooks is a New York Times columnist, PBS News Hour regular and political commentator.  He sold his home on Ordway Street to a local unnamed buyer.  The home has been exquisitely renovated.  The master bedroom has a view of the National Cathedral, and the interior has vast spaces for entertaining.
Photo courtesy of HomeVisit.